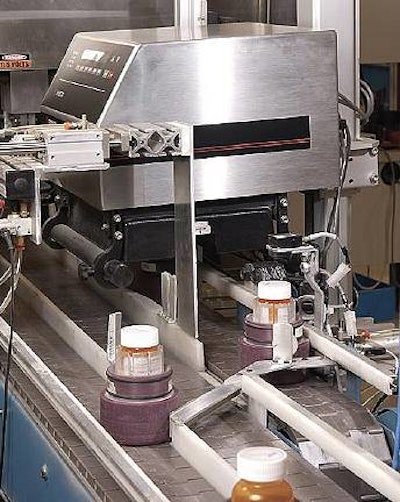 The packager: Costa Mesa, CA-based Prescription Solutions is a leading provider of pharmacy and medical management services to employer groups, managed care organizations, union trusts, and third-party administrators nationwide. The company manages prescription drug benefits and works with organizations closely on how they can best control costs, improve safety, and offer the most effective drugs for the patient. At its mail service facility, the primarily responsibility is to fill prescription orders.
The facility handles upwards of 4ꯠ different medicines. About 80% of the prescriptions are shipped via U.S. mail.
Summary: Prescription Solutions induction seals bottles so that a cap liner adheres to the mouth of the bottle to create a tamper-evident package. The sealing energy emitted during induction sealing was similar to those of inline radio-frequency identification (RFID) antennas used to track bottles, interfering with the system's communications, and slowing the line.
The packaging line: One packaging line at the 85ꯠ sq' Carlsbad, CA, plant, is used for tablets and capsules, usually in quantities of 90 to 540 per bottle. For specifics on the line flow and the packaging equipment involved, see sidebar.
The challenges: At any moment, Prescription Solutions tracks between 400 to 500 individual drug prescriptions on the line, each filled into a pill bottle that's conveyed in a high-density polyethylene puck. Each puck includes an RFID chip or tag with an antenna. As the pucks are conveyed on the line, they pass numerous RFID antenna-readers that constantly emit RF signals. The tag responds with the chip number that corresponds to the prescription. That number is downloaded into a computer, which, in turn, triggers pneumatic devices on the conveyor that assist the movement of the puck downstream.
Trouble was, the signal frequency of the RFID equipment was in the same range as the frequency emitted by the original induction sealer used on the line.
"Our previous sealer's signals prevented the RFID chip from effectively communicating with the readers along the conveyor," relates Dave Booher, pharmacy manager. "The main issue was within about a 10-foot radius around the [sealer] that was disrupting the RF communications. The lack of communication meant the puck couldn't be diverted where it was supposed to go. It disrupted the routing." That slowed down the line because it delayed the puck from moving downstream.
The solution: A new Enercon induction sealer's coil design helps focus the unit's signals to the application area, eliminating the problem, and yielding additional benefits. By focusing that energy at the sealing area, there's no interference from RFID signals emitted by antennas mounted beneath the conveyor throughout the packaging line.
The complete feature, Firm solves RF/RFID pollution, is published in the December issue of Packaging World.
Companies in this article