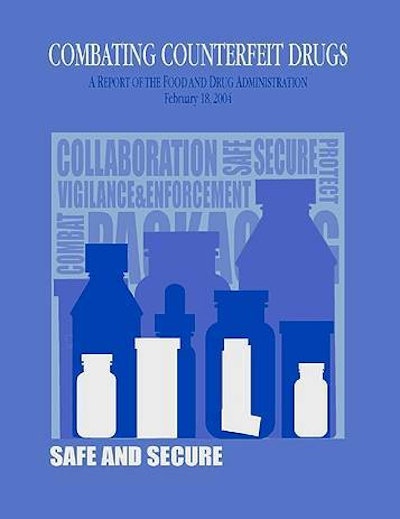 To help fight the battle, the Food and Drug Administration's Counterfeit Drug Task Force earlier this year created Combating Counterfeit Drugs: A Report of the Food and Drug Administration. The report was part of an initiative that included manufacturers, wholesalers, retailers, pharmacists, consumer groups, and other stakeholders. The following is a summary of the report's recommendations:
1. Radio-frequency identification tagging of products is feasible by 2007 and could be an effective way to track and trace drugs from manufacturing through dispensing.
2. FDA is working with the National Assn. of Boards of Pharmacy on revising licensing rules for wholesale drug distributors to make it more difficult for illegitimate wholesalers to get into business.
3. FDA is requesting that the United States Sentencing Commission increase criminal penalties for manufacturing and distributing counterfeit drugs.
4. Businesses can identify individuals and teams to take responsibility for security. FDA plans to increase its inspections of repackagers that follow procedures that place them at an increased risk for the introduction of counterfeit drugs.
5. FDA will develop educational materials, partner with organizations, and deliver public service announcements to increase education on counterfeiting.
6. The agency intends to work with various international organizations such as Interpol and the World Health Organization to develop global strategies to combat counterfeiting.
7. Several organizations have joined FDA's Counterfeit Alert Network to spread the word about counterfeiting incidents and general educational messages from FDA.
For FDA's complete report, visit www.fda.gov/oc/initiatives/counterfeit .