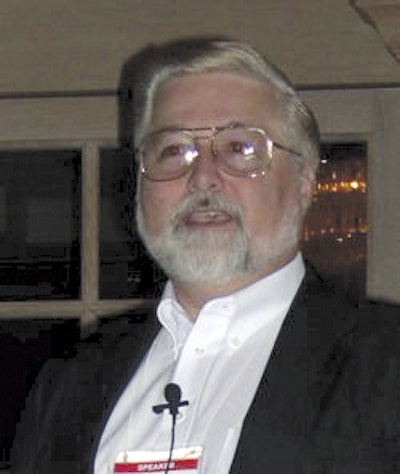 In his presentation, "Are We Doing Things Properly?", Brown explained that the process involves installation and operational qualification, as well as process and sterility validation.
Brown is the director of operations with Datascope Interventional Products, a medical device maker. He's also a Certified Packaging Professional and engineering consultant for Dave Brown Associates LLC, a firm focused on resolving engineering issues. He relied on his 24 years of medical packaging experience in offering an audience of more than 100 people insight into various medical packaging topics, such as:
Package design. He said it should focus on available equipment and product needs. The package needs to promote product in a positive light to customers. It must protect product against transportation, material handling, and sterilization issues. It must allow product to be removed without compromising sterility.
Material selection. "Know what you want," he stated repeatedly. Evaluate costs, such as flexible vs rigid packaging, and consider recycled fibers.
Vendor selection. "It's important to know where to find the materials and equipment you want," he said. "Remember, less-expensive tooling does not always save money. Watch out when the tooling is free. It's true what they say, 'You get what you pay for.'" In general, "big [vendors] tend to provide better quality, but provide less flexibility than smaller suppliers."
Product labeling. "Everyone wants on-demand printed labels with bar codes, but few want to pay for them or [know] how to make them economically," he said. The Food and Drug Administration offers manufacturing identification numbers using National Health Related Items Code (NHRIC). Visit www.fda.gov/cdrh/nhric/nhric.html.
European approval. Understand ISO 11607 and EN 868-1-10, he recommended, as well as mandatory vs voluntary standards. Language translation requires that companies locate qualified translators to avoid misunderstandings. Translate only those languages you plan on doing business with, typically French, Italian, German, and Spanish. "Don't translate until you're certain there will be no more changes," Brown advised. For information on international symbols, visit www.medical-language.com.

Brown offered three case studies, based on his consulting experience. One involved customer complaints about material delamination where the solution was to resize a seal tool and eliminate a lid-seal edge to a rigid tray. He said it cost the customer only $300 to resize a heat plate and make the lid the correct size. The issue was solved in two days after the customer spent months addressing the challenge.

The second case study involved a customer who could not finish accelerated age testing due to blister cracking. Brown's company solved the problem for $1귔 with simple mold redesigns that reengineered the tray to eliminate stress. Packaging cushioning materials were improved, and machinery temperatures were lowered.

The final application mentioned was with a European customer who struggled with sealing rigid trays because the seal flange curled before hot tack was completed. The problem had existed for more than a year. It was solved by working with a supplier to eliminate stress in the blister and by controlling flange variation tolerances.

Brown said that medical device makers who truly knew what materials they wanted for their packaging and knew where to purchase those materials could save anywhere from 25% to 50% in costs.

He concluded by addressing the presentation's question, "Are We Doing Things Properly?" He believed that medical packagers understood the basics, though they still tended to underestimate what it takes to get things done. He believed that most companies do conform to ISO 11607 but may not know it. He advised HealthPack attendees to learn the basics of packaging. "And remember to respect your suppliers. You never know when you might need a favor."
Companies in this article