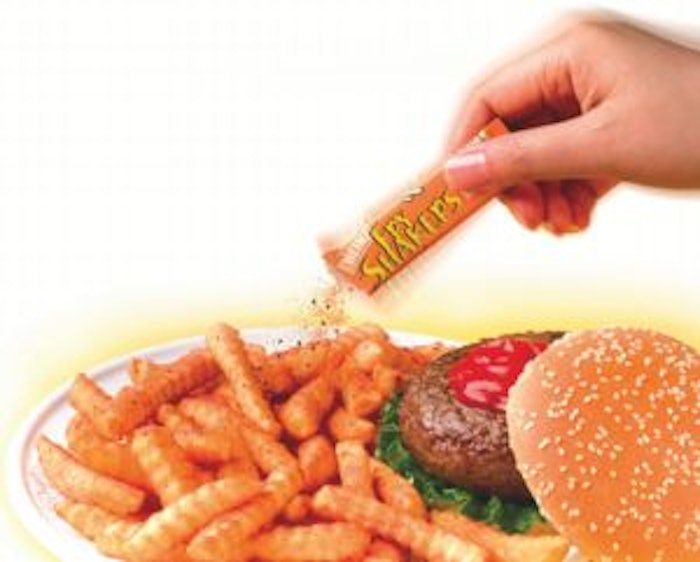 Fry Shakers are sold to foodservice outlets in stick packs containing 3 g of either cool ranch, cheddar ranch, salt & vinegar, or spicy buffalo flavor. Consumers can sprinkle the seasonings on fries or other foodservice items.
"We tested these packs in the Northeastern and Central United States in October, and that led to this launch," says Pam Wigley, manager of foodservice communications for Pittsburgh-based Heinz. "These are sold in case quantities of 252 to fast food outlets, entertainment complexes, sports arenas, and venues where you might find finger foods and condiments." The packs will be provided free at these outlets. Depending on the outlet, they may be available with other condiments or distributed with a food order by a foodservice employee.
Fry Shakers are sold in a pack that measures 23-mm W x 85-mm L (0.90" x 3.34"). Curwood supplies the structure, which is just more than 3-mils thick. From the outside-in, the extrusion lamination includes paper/aluminum foil/tie layer/sealant film. The outer paper layer is surface-printed flexographically in three colors. Heinz worked with Miller Creative Group to create graphics for the packs. Consumers can easily tear open the pack from either of its two ends, eliminating the need for a tear notch or perforation.
"The key barrier the material provides is preventing moisture from getting in that could cause the product to become lumpy," explains William Rasile, manager of flexible packaging for the company's foodservice division. Shelf life is six months, though Rasile says efforts are underway to lengthen shelf life.
Curwood ships rollstock to a Heinz plant in Northbrook, IL, where product is filled on a new vertical form/fill/seal machine the company prefers not to identify.
"In retail, stick packs have been used for a number of years," says Rasile, "but this is a new application for us." Wigley adds, "We've never heard or seen anything quite like it in foodservice. So far, the market response has been great in the areas where we've introduced it and that's why the decision was made to do a larger launch. It will go nationwide soon."
Companies in this article