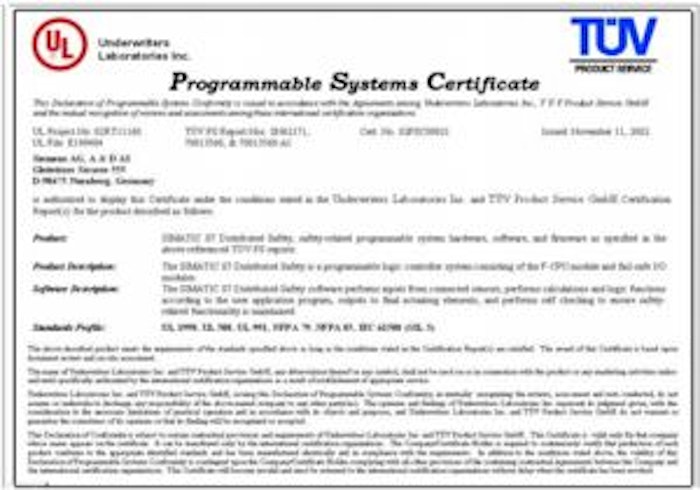 Apparently, when it comes to protecting life and limb, no one wanted to risk a network failure.
However, technology has improved and safety codes have been revised to permit e-stops and safety to be integrated into a control system.
Integrating e-stops into a control network can provide significant advantages to machine builders, according to Siemens Energy & Automation, which is rolling out its new Safety Integrated USA initiative.
One benefit of integrating safety into the control system is simplified wiring inside controls cabinets. A separate cabinet for safety relays is no longer required, becuase the safety function is included in the control network. This eliminates the need to hardwire e-stops to safety relays, and eliminates the need for a redundant network dedicated solely to safety.
Another benefit is better diagnostics. Since e-stops are now wired directly into the control system, the controller can identify precisely which e-stop was hit at what time, data which can be used by a diagnostic or data acquisition system. That's especially useful for long conveyor runs with multiple e-stops.
Light curtains and position sensors can also sit on the AS-i bus and be considered an e-stop. And because it's integrated into the control system, such position sensors are less susceptible to overriding on the customer's plant floor by production personnel, according to Siemens.
Siemens says that machine builders who rely on Rockwell PLCs do not need to switch to Siemens PLCs in order to take advantage of this technology. A machine builder can use an Allen-Bradley PLC with an AS-i card from a third party, with existing e-stop buttons wired into the AS-i bus. The solution can be adapted by OEMs using safety relays. Siemens now has a networkable safety relay that sits on an AS-i network.
At a recent press event, Siemens mentioned two packaging machine builders who are first to use the safety technology--Pearson Packaging Systems and Hartness Intl. Pearson was said to go from 400 hours of assembly time (using hardwired e-stops and safety relays) to 100 hours using the AS-i bus.
The NFPA 79 standard published in 2002 now permits the use of a listed safety PLC or bus (listed being defined as a nationally recognized testing laboratory such as U.L. in the United States, or TÜV in Europe). The first automation product approved by both labs is the Siemens SIMATIC S7 safety system. Rather than selling a specific safety product, all of Siemens' automation products integrate safety, says the company.
Response time is a maximum of 40 msec from the moment the e-stop button is pushed to when the relay contacts drop out, according to Siemens.
Companies in this article