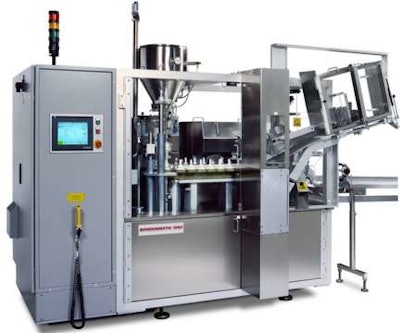 At the same time, it delivered its last Gen2 machine to the same customer.
This permitted Norden Pac to make an apples-to-apples comparison of the engineering and performance differences between the two generations of the same machine--the Nordenmatic 1002 tube filler.
Both are servo machines, both are rated at 120 tubes/min, and both utilize robotic cartoning modules. In fact, the two machines look identical on the surface. Underneath the hood, the older machine is controlled by a PLC, and the newer machine uses the PacDrive™ automation system from Elau.
Norden Pac's Jonas Ewing presented his company's findings on the differences between the two generations at Pack Expo Las Vegas in October 2003:
- Actual throughput for the new machine increased 20%, to 144 tubes/min.
- Lead time to build the Gen3 machine was reduced by 10%.
- Between 10% and 20% fewer engineering hours were incurred to meet customer specifications.
- Because the system is designed in Good Automated Manufacturing Practice (GAMP) compliance with pretested software modules, the customer's validation cost was reduced as well, according to Norden Pac.
- Internal costs were the same for the Gen3 machine, though Norden Pac expects this will decrease with subsequent machines.
- The Gen3 machine's start-up took 30 hours vs 24 hours for the Gen2 machine. But Ewing expects start-up time to decrease as the company accumulates more experience with Gen3 technology.
- The Gen3 machine required less field support once it was installed.
Ongoing savings for the customer are said to include simplified operation, diagnostics and the ability to monitor and analyze efficiency via the PackML™ state model, part of the OMAC Packaging Workgroup's Plug-and-Pack guidelines.
Companies in this article