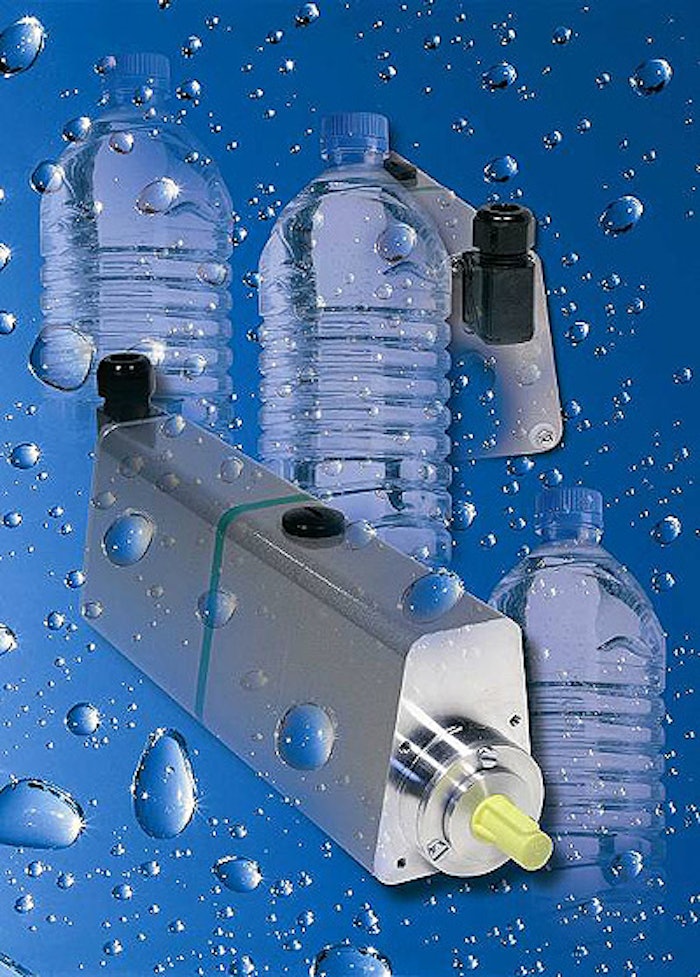 More reasons to embrace the servo solution for rotary liquid filling capping and labeling
Until the introduction of ELAU's new SCL integral servo/motor drive technology rotary liquid packaging had remained highly mechanical.
There was simply no room for conventional servo motors and drives on the carousels. And it was hard to connect drives on the stationary side of the machine to motors on the carousel.
What makes SCL different
SCL mates the drive electronics to the motor in a form factor that fits perfectly around rotating structures. A single cable provides power signal and SERCOS motion network connections for each motor/drive. Not only is wiring simplified control cabinet size is reduced.
A slip ring connection provides power and control to as many SCLs as needed. IP67 moisture sealing and a corrosive-resistant finish make the SCL-055 ideal for applications in washdown environments.
By significantly reducing the number of mechanical components on capping heads the servos also reduce the opportunity for collecting contaminants -- an important attribute in aseptic environments.
Consistent accuracy
Conventional filling capping and labeling heads are complex mechanical devices with limited accuracy. Not only is the servo solution more flexible it offers increased accuracy.
For example capping torque remains consistent independent of machine speed. This is important because new materials such as PET and thinner wall aluminum cannot tolerate the same deviations as traditional materials. In actual operations on PET soft drink bottling lines a cpk value of 1.8 has been achieved far better than the previous mechanical capper's 1.3 and the packager's goal of 1.33.
A new era of efficiency and flexibility
Now format changes can happen in seconds on the fly in software. There is no need to mechanically adjust the reference torque of the capping head – a difficult error-prone process.
Cap torque can be adjusted infinitely without special tooling – permitting different bottles and caps to run on the same machine. The servos can adjust automatically to orient containers adjust for different label types and more. In an initial application labeler throughput increased by 50%
Built-in on-line process quality documentation
While a mechanical device is essentially blind the servo provides feedback information by its very nature. The controller can record and supervise the capping parameters of each bottle -- so on-line quality monitoring is a built-in feature.
Faulty products can be identified automatically and discharged from the machine process parameters can be logged and traceability is enabled.
First machines go on the market
It's no wonder that some of the world's best liquid packaging machine builders are already designing their next generation machines around the new PacDrive SCL. For example Krones introduced a new aseptic servo capper using the SCL motor/drive at the Brau Beviale 2003 show in Nuremberg. And SIG has announced that its new Alfa Self-Adhesive Labelers will now use the SCL.
For more information visit www.elau.com E-mail info@elau.com or call 773/342-8400.
[This advertorial originally appeared in Packworld.com's supplier-sponsored content area.]
Companies in this article