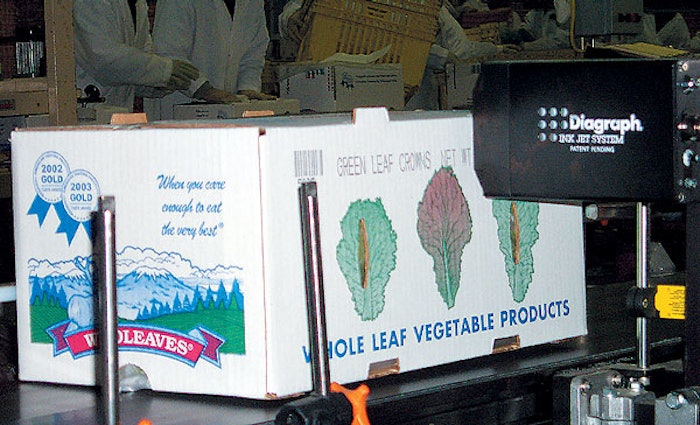 Even more important, because the printers operate wirelessly, they've greatly simplified an operation that has to relocate according to harvest conditions.
Based in Salinas, CA, Mills runs its Great Northern Wholeaves operation in Salinas from April through October because that's where the lettuce is. But from November through March, harvest conditions require the company to physically relocate the entire packaging operation to Brawley, CA. Customers are primarily foodservice institutions. The operation runs nine processing lines and three packing lines, with 400 employees working two shifts daily.
Fresh lettuces are packed into unwaxed corrugated cases that are taped shut and automatically coded with Diagraph PEL high-resolution ink-jet printers.
Security improved
"In the past," says Mark Tolhurst, director of manufacturing information systems, "we printed labels off-line and applied them to cases by hand. In late 2002, we switched to the automated Diagraph printers to save about 10 man-hours per day. It also improved the security of our product identification messages. A label can be tampered with and we might not catch it, but ink-jet printing becomes a part of the box, so it's very obvious if tampering occurs."
Each case is marked with a ¾"-tall bar code as well as an alphanumeric equivalent. The need for reliable, scannable bar codes dictated the choice of print heads, says Tolhurst. The high-resolution printers can also print product description, logo, production date, or use-by date. In all, there are about 40 different product identification messages used to mark Great Northern Wholeaves' cases, all of which are stored for easy retrieval in the PC that controls the ink-jet print heads.
Wireless simplicity
Tolhurst and computer networking consultant Superior Tech Systems organized the installation so that communication between the plant PC and the ink-jet equipment is wireless (see story, p. 55). Few things could make chief of operations Jeff Hougham happier.
"When we move from Salinas to Brawley, it's a major undertaking," says Hougham. "It means packing up all our equipment on 50 trucks and making a 500-mile weekend drive. We're always looking for new ways to make the move, and the reinstallation of our production lines, easier. Wireless communications is one of those ways. There aren't any cables to worry about. When we move the plant, all we have to do is remove the print heads, lift the conveyors, and bolt them onto trucks." Tolhurst agrees. "We'll definitely use the same system for the new plants we have planned," he says.
Companies in this article