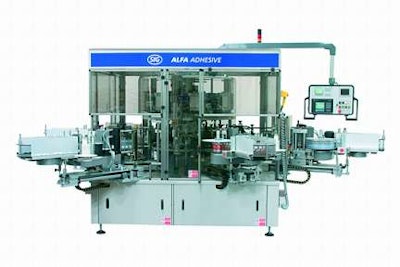 Liquid packaging automation is a hit
Many visitors to ELAU's booth asked about the new solution for liquid filling capping and labeling. They'd read press reports about the new SCL-055 servo motor/drive designed specifically to overcome the mechanical design constraints of rotary packaging machinery. At PACK EXPO machine builders had the opportunity to see one and discuss applications.
Packagers who've written specifications for the SCL solution were pleased to hear that the first machines incorporating the integral motor/drive will be on the market in the near future. For example according to SIG's Uwe Hasler the SCL will be used on all forthcoming SIG Alfa Self-Adhesive Labelers.
The benefits include vastly simplified installation precise and infinitely variable torque control for accurate dosing and capping on-the-fly changeovers throughputs as much as 50% higher and greater flexibility in label application.
Scalable automation strikes a chord
Another hot topic with packagers was scalability of the packaging automation architecture. Automation World's October coverage of next generation automation strategies struck a chord especially with food beverage and CPG manufacturers who want to know that the automation architecture they choose today will support their growing use of software. IT buzzwords such as MES OEE and SCM were frequently mentioned as requirements for well structured data handling OPC and Web server interfaces and best practices for implementing the OMAC PackML™ state model.
They learned that ELAU has anticipated these requirements with an expanded family of four new PacDrive™ controllers that scales both upward and downward. With an entry level PacDrive™ automation system instead of a PLC now even small machines can affordably communicate with enterprise systems which is crucial to corporate manufacturing management strategies. And as servo usage on machines continues to grow so does the performance of the new high end PacDrive™ systems. There was even a model that can run the HMI and other Windows™ applications in the background on the same Pentium® -- taking the cost of a separate PC out of the equation.
Conference at Pack Expo
A case study on Gen3 packaging machinery presented by Robert Martell of Pfizer Jonas Ewing of Norden Pac and Patrik Hug of ELAU was very well received. An audience numbering over 50 saw cost time regulatory and performance benefits quantified in both OEM and end user terms. They also saw a vision of what's to come from emerging standards for acquiring data to food processing machinery available today designed for use by unskilled operators. The latter Weber's 2 cpm slicers allow butchers and dairy plant workers to handle recipe changes and diagnostic tasks without touching software programs.
This year's conference emphasized the business benefits of packaging automation echoing ELAU's philosophy of providing not just performance but making the machine a powerful plant floor sensor for enterprise decision making.
For more information visit www.elau.com email [email protected] or call ELAU at 773/342-8400.
[This advertorial originally appeared in Packworld.com's supplier-sponsored content area.]
Companies in this article