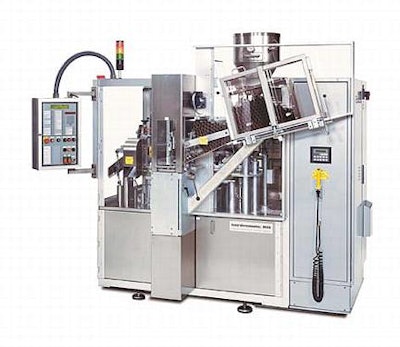 A side-by-side comparison of comparable Gen2 and Gen3 tube filling systems installed at a cosmetics manufacturing plant highlighted this year's Conference at PACK EXPO.
When a packager changed its sourcing strategy from Gen2 to Gen3 machines it created a unique opportunity for Norden Pac to make an apples-to-apples comparison of the engineering and performance differences. The customer's last Gen2 tube filling system was actually delivered in the same month as their first Gen3 machine.
As a result they received two very different Nordenmatic 1002 machines.
Both were servo machines both rated at 120 tpm and both utilized robotic cartoning modules. In fact the two machines look identical on the surface. But open the control cabinets and you will find a popular brand of PLC in one and ELAU's PacDrive™ integrated automation system in the other.
The integrated system enabled highly modular programming in the IEC 61131-3 languages tight integration with the HMI via OPC and a high level of synchronization between the servos and the robotic motions. A single IEC program running on the Pentium® based PacDrive controller makes use of well structured motion and logic software with extensive use of pre-tested software libraries.
Architecture makes a double digit difference
Both hardware and software architectures gave Norden Pac's programmers a fundamental advantage over the previous generation of PLC hardware and proprietary ladder logic programming. Norden's EasyWare software relies on this Gen3 automation architecture to increase performance and reduce engineering costs.
Actual throughput for the new machine increased 20% to 144 tpm. Yet leadtime was reduced by 10%. Between 10 and 20% fewer engineering hours were incurred to meet customer specifications. Because the system is designed in GAMP compliance with pre-tested software modules the customer's validation cost was reduced as well.
Overall internal time costs were equal as the initial Gen3 machine's startup took 30 hours while the conventional machine took 24 hours. Norden Pac Quality Manager Jonas Ewing noted in his presentation that the startup and internal time costs will both decrease as the company's experience builds.
Ongoing savings for the customer include simplified operation diagnostics and the ability to monitor and analyze efficiency via the PackML™ state model.
For more information on Gen3 packaging automation visit www.elau.com write to [email protected] or call 773/342-8400.
For more information on Norden Pac visit www.norden-pac.se write to [email protected] or call 011/46.480.447.700.
[This advertorial originally appeared in Packworld.com's supplier-sponsored content area.]
Companies in this article