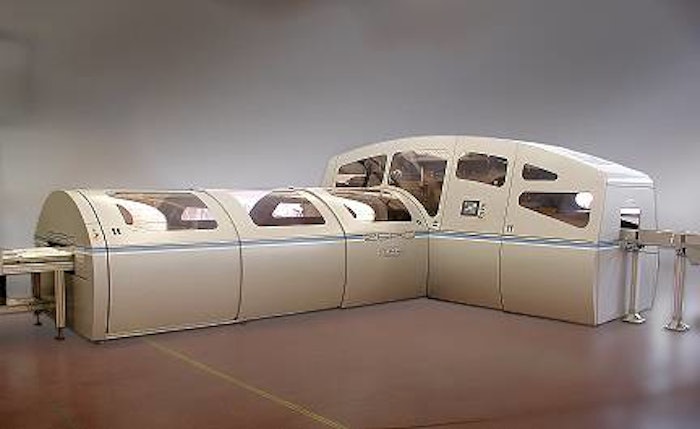 Tissue industry executives will see the radically new Zero™ tissue roll wrapper in action on March 30 -- 31 2004 at an invitation-only event hosted by Aantec the North American sales and support partner for Zero's manufacturer Tissue Machinery Company. Named Zero because it was designed from the ground up to take advantage of ELAU's PacDrive™ automation technology the new wrapper can wrap up to 200 packages per minute with computer-aided changeovers from single rolls up to 50-roll tissue or 20-roll towel packs.
"You have to experience this machine firsthand to really appreciate its capabilities. That's why we're holding this event" said Jeff Aissen Sales Engineer for Aantec. "For example at 90 12-roll packs of bathroom tissue per minute the Zero machine can wrap over 1.5 million rolls in a 3-shift day."
In addition to high speed fully servo-assisted changeovers maximize productivity by reducing downtime and human intervention. Setups are selected from the operator panel which provides graphical step-by-step instructions. Change parts are minimized and limited to the elevator plate. Servomotors stop and restart the machine in phase to quickly swap out change parts automatically make repeatably accurate adjustments and ramp up smoothly to reduce startup waste. A single operator can change over within horizontal core formats in as little as 1 minute with no manual intervention and as little as 5 minutes for changeovers between horizontal and vertical cores.
The Zero is a true Gen3 design whose kinematics were developed in collaboration with The University of Bologna which is world renowned for its wrapping machine expertise. Its mechatronic efficiencies include streamlined mechanical drivetrains reduced inertial mass a patented infeed system extensive use of servos for high speed and positive control of wrapping material innovative folding units automated emptying innovative machine guards and auto-diagnostics. To assure maximum 80 dbA operation and to control dust the entire machine is completely enclosed. The compact 36' x 10' footprint is L-shaped for easier siting.
Also on display at the event will be a TMC FLEXIWRAP AT22H flat pack napkin wrapper installed in line with Aantec partner C. G. Bretting's LCI folder a TMC QUALYWRAP QW1800ML roll wrapper and conveyor systems and devices from Aantec partner Pack Air.
ELAU will give technology briefings on the PacDrive automation system that is powers TMC's machines and is now available on Bretting LCI folders. ELAU has been credited by ARC Advisory Group the nation's premier automation analyst firm as setting the stage for machine builders to implement Gen3 servo packaging machines.
Factory trained Aantec engineers and technicians will be on hand to demonstrate ability to provide technical support final assembly installation integration and commissioning.
For more information contact Bob Schuh at Aantec by telephone at 920/830-9723 by fax at 920/830-9840 or by email at info@aantec.com.
[This advertorial originally appeared in Packworld.com's supplier-sponsored content area.]
Companies in this article