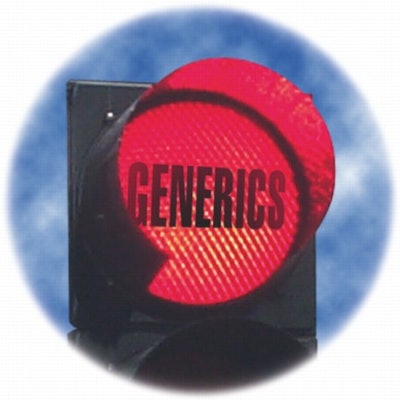 Should brand-name pharmaceutical manufacturers be able to use packaging patents to delay the marketing of generic drugs by competitors? Some top-tier drug manufacturers think so. Their belief may push normally invisible packaging concerns into the political limelight as Congress and the Bush administration make a determined effort to halt runaway increases in drug prices. At press time, it was announced that new regulations effective Aug. 18 will limit company patent protection to one 30-month stay, once the patent has expired.
High prices for branded drugs have become a marquee political issue the past few years, whether in the context of congressional development of a Medicare outpatient drug benefit, concern over runaway federal Medicaid costs, or growth in the number of uninsured Americans. All three of those separate issue debates have featured allusions to the leverage that brand name pharmaceutical companies gain by keeping lower-priced generics off the market.
That leverage was bestowed by the 1984 Hatch-Waxman Act, which ostensibly made it easier for generic drugs to get Food and Drug Administration approval but at the same time gave the big drug companies legal tools to delay the entry of generic drugs.
A report by the Federal Trade Commission (FTC) last summer said that branded drug companies file patents for drugs long after the drug is first approved by the FDA. Some of these patents appear to have little to do with the novel aspect of the new chemical that is at the heart of the drug. Packaging patents fall into this category.
Whenever drug companies make the FDA aware of a patent for a particular drug, that patent is listed in what is called the FDA Orange Book. This listing allows the brand-name company to allege, as a generic manufacturer gets ready to introduce a competitive product into the market, that the generic product infringes on one of the brand-name's patents.
That challenge results in a 30-month "stay" of the generic's introduction while the legal issues are sorted out. Some companies were accused of filing one 30-month stay after another, alleging infringement of one patent after another, the FTC found, delaying generic competition for years. Granting of more than one stay will cease Aug. 18.
Packaging patents, too
Up until now, packaging patents have been eligible for registering in the Orange Book. That underlay a challenge to Baxter Healthcare, New Providence, NJ, by Abbott Laboratories, Abbott Park, IL, when Baxter introduced its anesthesia drug sevoflurane. Sold under the name Ultane R, Baxter's sevoflurane was packaged in PET containers, according to Crystal Rice, an FDA spokeswoman.
Abbott filed a lawsuit and applied to the FDA for a 30-month stay of Baxter's application for approval to sell sevoflurane. Why? Because Abbott claimed that very same type of packaging as a patent when it introduced its version of sevoflurane. Baxter subsequently withdrew its original packaging and repackaged its sevoflurane in aluminum containers with polymer resin inside. Stacey Eisen, an Abbott spokeswoman, refused to comment on the imbroglio.
Delaying a generic drug for such a reason would no longer be allowed if the FDA finalizes a change to Hatch-Waxman it proposed in October. Packaging patents (and other types of patents) could no longer be entered in the Orange Book. Branded drug companies and their trade association, the Pharmaceutical Research and Manufacturers of America (PhRMA), want to make sure that the FDA doesn't mean to exclude patents for packaging that is "integral" to the product, such as a drug delivery system.
Donald Parman, vice president of legal operations for GlaxoSmithKline, Research Triangle Park, NC, says asthma inhalation devices, nasal inhalers, transdermal patches, and pre-filled syringes should all be eligible for listing in the Orange Book. GSK has become something of a "poster company" for manufacturers that block generics. It has been in a pitched legal battle for years with Apotex, a generics manufacturer that wants to introduce a version of GSK's Paxil, an antidepressant.
"Unlike drug containers and packaging, drug delivery aspects of integrated device/drug combination products are not distinct from the approved product," Parman says. Part of the reason GSK is taking that position is because of its Serevent Diskus R, which consists of a powder formulation of salmerterol xinafoate, an asthma drug, administered through a specially designed plastic inhalation delivery system called the Diskus.
New York-based Pfizer, Inc., wants the FDA to take a considerably broader view of the word "integral." The company acknowledges that packaging that is distinct from the drug product should not be eligible for the Orange Book. However, Jeffrey Chasnow, Pfizer's senior corporate counsel, goes on to cite GSK's "integral" exception and expand its application to "novel blister packaging which may be necessary to ensure safety or efficacy." Pfizer wants the FDA to revise its proposed rule to allow listings of patents that claim packaging, containers, or delivery systems—for which FDA would require prior approval for any changes.
The same drug patent issue caught the attention of the Senate last year and resulted in passage of a bill called the Greater Access to Affordable Pharmaceuticals Act (S. 812) by a vote of 78-12. That legislation did not get into which patents may or may not be listed in the Orange Book. But it did, like the new FDA rule, limit brand-name companies to one 30-month stay per drug.
Companies in this article