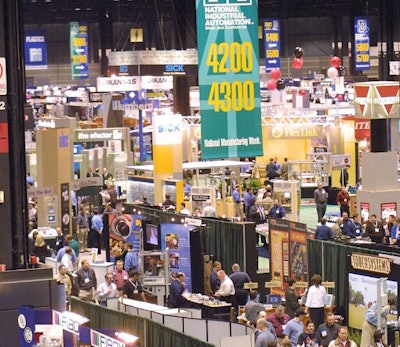 The National Industrial Automation show, one of four "shows within a show" that make up National Manufacturing Week, continues to shrink each year. This year was no exception, with the show filling no more than four or five aisles in McCormick Place's South Hall. Gone were the large splashy booths, still in evidence as recently as three years ago. Gone too are many uber-players like Rockwell Automation and Siemens. But despite the show's limited size, exhibitors we spoke with seemed satisfied with booth traffic.
One interesting demo offered a vivid example of the trend toward increased processing power at the device level. At the Wago booth (www.wago.com), a complete conveyor sortation system was being simulated on the company's 32-bit programmable field controller. Wago claims this controller eliminates the need for a PLC not only for logic control, but also for serving packaging production data (even in XML format) directly to higher-level Manufacturing Execution Systems (MES). Typically such data would have to pass through a number of PLCs and other devices in order to be converted into a format that MES systems could read.
At the DVT booth (www.dvtsensors.com), the company told PW that its Legend 540 high-speed camera is especially suited to packaging. With built-in Ethernet connectivity, the camera can perform up to 9ꯠ inspections per minute and delivers eight times the performance of traditional smart cameras, according to the company.
Meanwhile, the ipd division of Coreco Imaging (www.goipd.com) was showing what it calls its iLabel "vision appliance." Essentially a machine vision system prepackaged for label inspection applications, the product is said to require only minutes of setup time. iLabel checks for placement and quality of labels on bottles, boxes, cans, and other package types. It detects tears, flags, damage, smears, splatter, and contamination. It also reports measurements of quality, placement position, and angle. Company representatives claim an entire system costs less than $5ꯠ. Meanwhile, PPT vision (www.pptvision.com) was showing off its new range of Impact high-speed vision systems. Company representatives said the new system is more powerful and easier to use than previous models. A packaging demo running at the booth showed OCR/OCV capabilities, date/lot inspection, fill-level inspection, spray tube presence, and label printing verification.
At the SICK booth (www.sickusa.com), a new generation of miniature registration and inspection sensors was on display. The extremely small size of the CSM (color), LUT (luminescence) and KT (contrast) sensors permit them to be mounted inside a packaging machine, according to company representatives.
Finally, Bosch Rexroth's Bob Rickert gave his last public appearance as the company's president and CEO, a role from which he'll be stepping down on April 1, 2003. At the show, Rickert introduced his successor, Wolfgang Dangel, currently executive vice president and chief financial officer. Despite Rickert's stated intention of relaxing on a quiet beach in the Carribean, he will remain an advisor to executive management.
Companies in this article