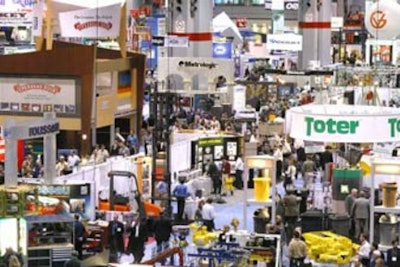 MHIA reported that 37꽤 attended the show at McCormick Place North. That amounted to near-record numbers, the MHIA says. The show also featured 647 exhibitors in 289ꯠ net sq'. Foreign attendees represented 85 countries.
Besides an assortment of conveyors, racks, bins, and other materials handling products, packaging firms included those that promoted radio frequency identification systems.
On another packaging front, one commercialized installation exemplifies the melding of traditional material handling with sophisticated on-line analysis of packages in a new world-class facility.
UPS's amazing package tracking facility
Operations and marketing manager Patrick Farnan of Vitronic Machine Vision (Louisville, KY) informed PW of the recent startup of package tracking system at United Parcel Service's new $1 billion-plus "Worldport" hub facility in Louisville.
UPS uses Vitronic machine vision technology to identify--via bar code scanning--and measure individual packages as they convey within the facility. Vitronic also incorporated weighing systems from OCS Checkweighers (Snellville, GA). Vitronic integrated 167 systems at the fully operational UPS facility; the vision cameras obtain images of the front, top, and left side of each package. Rates are up to 2ꯠ packages/hr/line. UPS announced the completion of the project, which started in 1999, in late September 2002. Farnan says that this technology has application for packaged goods manufacturers.
According to UPS, the Worldport facility sorts 304ꯠ packages/hr on more than 17ꯠ different conveyor sections totaling 102 miles of conveyor. UPS is the first United States installation for Germany-based Vitronic, Farnan says.
More MHIA news
Says MHIA chief executive officer John Nofsinger, "Overall, we experienced a challenging business environment during the second half of 2002. However, early reports from the show confirm our predictions that we will see a recovery and improvement in [sales] throughout 2003."
ProMat 2005 will move southward a bit to McCormick Place South January 10-13, 2005. This change reflects the desire to showcase all elements of the material handling & logistics industry on one easily accessible show floor.
Companies in this article