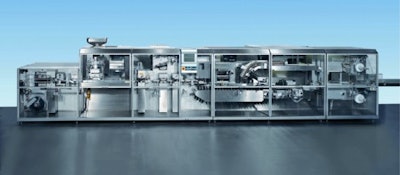 New ARC Insight report defines pharma gen3 packaging needs
Just in time for the Interphex show ARC Advisory Group has released a new Insight report analyzing the business drivers for Gen3 packaging automation in pharmaceutical manufacturing.
While pharmaceutical product development costs have quadrupled in the US since 1990 patent protection is simultaneously eroding. Therefore ARC notes that time to market is more critical than ever and packaging machine flexibility is playing a key role. For a blockbuster drug every day's delay in reaching the market can cost $1 million.
Likewise format changes are rising and lot sizes are falling especially for the pharma industry's contract packaging partners. According to ARC new delivery systems – such as transfer patches and future technologies such as time release microchips – will all require increasing flexibility in packaging machinery.
Regulatory compliance issues are expanding with validation coding unit dosing and documentation requirements relying heavily on automation systems.
Pricing pressure is mounting on a global basis both due to competition and socio-political issues. As a result pharma producers are looking for operational efficiencies in new places. And taking a lesson from consumer goods packagers they are capturing both cost savings and marketing opportunities through packaging.
Gen3 'at the forefront' in pharma
ARC asserts that Gen3 packaging automation can play a key role in developing best practices for many applications. For example the Insight identifies end of line packaging as difficult to validate and a frequent source of FDA audits and citations.
From a performance perspective ARC notes the need for streamlining of control capabilities on a single platform instead of separate PLCs HMI and motion controls. This is one of the essential aspects of Gen3 packaging automation and also one of the least clearly understood.
The benefits of integrated control include a common set of development and integration tools for OEMs. But they also reduce FDA validation requirements and increase machine performance for users.
ARC sees the adoption of IEC 61131-3 the international language standard for motion and logic as very important. This is because standardized programming simplifies machinery design operation and troubleshooting. And by using validated off-the-shelf software libraries validation is further simplified.
The analysts note the many benefits of networking machines as intelligence is being distributed to increasingly modular machine designs.
A 'renaissance of innovation'
ARC's view of the global machinery market is encouraging for pharma packagers seeking new solutions.
One electromechanical innovation is the emerging use of specialized servomotors for filling and capping lines to reduce contamination and accommodate format changes. Servos are also being used to increase the productivity of blister packaging lines and tool-less changeover technologies.
Increased use of robotics makes machines more compact modular and reprogrammable. With robots readily reconfigurable packaging cells can take the place of dedicated linear configurations according to ARC.
In conclusion ARC recommends that users base their buying decisions on modularity and adaptability to protect their investment.
For a free copy of the new ARC Advisory Group report Pharmaceutical Business Seeks Generation 3 Packaging Machinery visit www.elau.com/interphex or visit ELAU at Interphex Booth 2350 Jacob Javits Convention Center New York March 31 to April 2.
Companies in this article