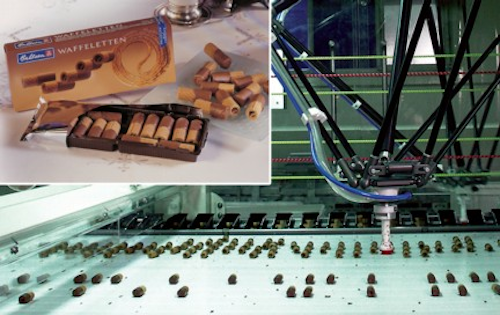 The SIG Delta Robots pick up fragile wafers directly from a conveyor belt and then gently place them in a specified arrangement into waiting trays. Sensitive handling ensures that the easily breakable wafers reach the trays intact, even at high production speeds of more than 2귔 pieces/min.
Previously, the wafers were packed on a robot system, as well as manually on a second production line. However, these systems could not keep up with the increasing demand for the wafers or meet the revised demands of Bahlsen for a more flexible and more efficient handling and packaging line.
Bahlsen chose SIG Pack's handling and packaging system for its high efficiency, minimum space requirements and low maintenance costs. What was previously carried out in a tedious manual 4-shift operation is now performed in a round-the-clock, 6-day cycle producing a higher output.
With the new SIG system, trays are fed into the robot area on two conveyor belts. These are then filled and sealed on a SIG pillow pack machine to ensure airtight protection. From a total of four storage towers, up to 240 trays are dispatched every minute. Perfect presentation in the trays is maintained through the application of SIG vision technology, which enables the system to reject any pieces that are found to be incomplete, damaged, or stuck together.
Saved space has enabled Bahlsen to improve the quality of the wafers by lengthening the cooling tunnel and product cooling time. A further advantage is that the previous slower robot line required multi-grippers. The SIG Delta Robot system uses only single grippers. This results in less maintenance work, and lower spare parts and wear and tear costs.
With the system designed for simple operation, the Bahlsen staff required only three days of training. As a result, the system has an overall efficiency level of 99%. In the future, Bahlsen plans to use SIG Pack's handling and packaging system with a range of baked products of different forms and consistencies.
Companies in this article