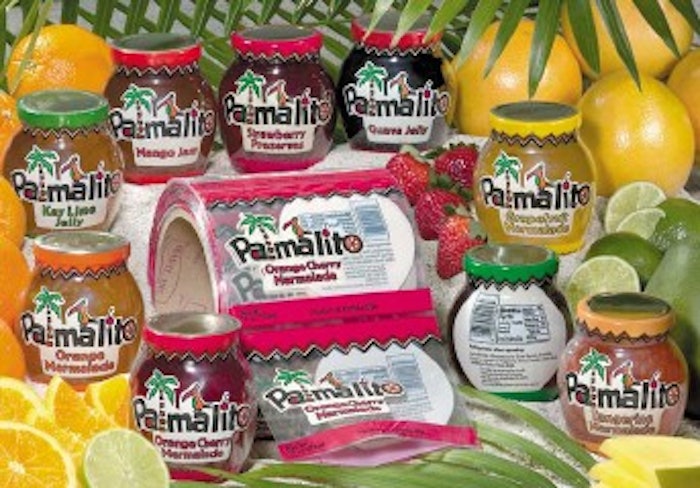 "If you look at jellies on a store shelf, you will see that they are one of the food products that still do not have tamper evidence," says Jonathan Canning, owner of Palmetto Canning. "If jellies do have tamper evidence, it is the vacuum button on the cap, which can be unreliable."
Seal-It (Farmingdale, NY) supplies the full-sleeve label with graphics, reverse-printed in 8 colors, that convey a tropical look with a palm tree, colorful parrot, and various fruits. "The shrink label gave us the advantage, if we wanted, for complete coverage as far as graphics go," says Canning. "It also gave us the ability to leave part of the label clear to see the product."
The new sleeve label includes a horizontal perforation that allows a band to be released from the cap while the label remains on the jar. Palmetto installed two new EZ 200 sleeve-label applicators from Axon (Raleigh, NC) in March 2001 to perforate the labels as the machine applies them at 50 jars/min. "The label with a perforation gives secure tamper evidence, and the label gives much better graphics," says Canning.
Previously, Palmetto used spot labels and a paperboard collar because of the spherical shape of the glass jar. "The compound curves on the jar greatly limited the graphics," says Canning. "Using the sleeve label allowed us to keep our uniquely shaped jar and still have an attractive package."
Palmalito retails for $1.39 to $1.59 at Publix and Albertson's. The nine flavors were launched nationwide in March 2001.
Companies in this article