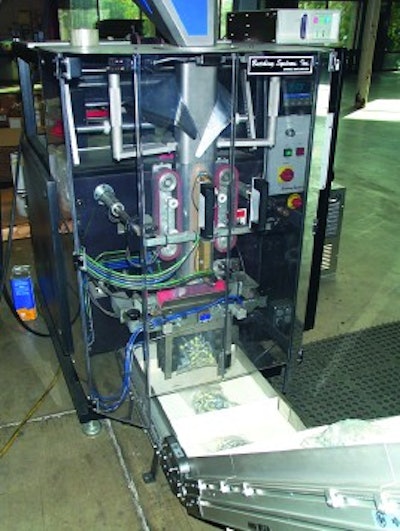 Using a human-machine interface panel, the operator sets the target weight. On the day of Packaging World's visit, 50-count bags of roofing nails were being produced for which the operator set the target at 691 grams. This particular setup had acceptable high and low settings of 697 and 687. Via a PC and BSIcom software, the memory stores up 500 kit settings. The presets control all speed, vibration, and timer settings.
Crates of loose nails are dumped into the floor-level vibratory feed bin from which a bucket elevator conveys the nails vertically 14' to a vibratory feeder that distributes the nails evenly onto the cone of a vf/f/s system. From there the nails are spread to the ring of 14 buckets. With each cycle, the system selects three buckets that most closely meet the total of the preselected target of 691 grams.
The parts are fed through a transfer funnel to the Bagmaster F-180-9 Heavy Duty bagger, which includes an integrated thermal-transfer printer that imprints product information. The bagged items release onto an inclined conveyor that drops them into a collection bin.
The bagging rate averages 30 bags/min, but A.R.C. has run it as fast as 40 bags/min, according to production manager Leonard Hudson.
Companies in this article