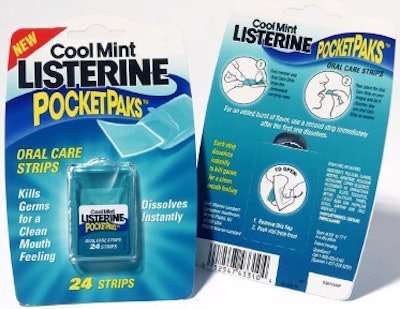 Retail packs include 16- and 24-count blister-packed vials, a 72-count blister containing three 24-count vials, and a 144-count pack for clubstores that holds six 24-count vials.
"Listerine PocketPaks strips mark the beginning of an exciting and innovative new chapter in the 120-year history of Listerine," states Wes Pringle, PCH's group marketing director of oral care. "We are excited to be able to expand the Listerine franchise to consumers looking for an 'on-the-go' solution."
The products were introduced in the United States, Puerto Rico, and West Indies in October 2001, following a launch in Canada in mid-2000. Suggested pricing is $1.49 for the 16 count, $1.69 for the 24, and $3.99 for the 72. The clubstore version sells for $5.99.
Pfizer declines to discuss packaging specifications or processes, except to say that it needed the products to be cost effective and produced at high speed with minimum labor.
Vial, blister details
The primary package is a tiny, ergonomic vial, which is injection-molded in one piece with a hinged tab that allows easy access to the strips inside. The vial is pigmented a translucent blue-green color that mimics the color of liquid Listerine.
To open the 24- and 72-count blisters, users first remove a perforated/die cut back panel. They then push the vial from the front through a foil laminate backing.
The company is also offering the vials in foil-laminate sample packs containing the strips in 8- or 24-counts.
Pfizer informs Packworld.com that key packaging considerations were given to displaying the packs at both the front and back ends of food, drug, mass merchandise and convenience stores. "Front-end racks next to candy [displays] were a challenge," Pfizer reports. That solution was the sleeved 16-count vial pack that stacks, yet provides enough "real estate" for the graphics. The blister cards on the other retail packs are die cut for peg display.
From Wal-Mart to mom-and-pop shops
Package design credit goes to Davis & Associates (Mississauga, Ontario, Canada). Its main goal was to create packaging configurations that would be universally acceptable from Wal-Mart to mom-and-pop shops. Pfizer wanted the graphic imagery to tie into the Listerine heritage, yet deliver modern, even revolutionary appeal and excitement.
Part of the graphics challenge was to communicate what the vial is and what it does. One major aspect was to be able to view the product, which is why a clear plastic blister was selected.
Because it was a new product concept with a new way to deliver oral care benefits, Pfizer needed space on the vial itself for graphics that would describe what the product is. That's done via top-and-bottom pressure-sensitive labels printed in what appears to be five colors. The bottom label is printed with a tiny contact-coded lot identification.
Pfizer sought package standardization across all PocketPaks sizes. In fact, the across-the-board primary packaging is the same vial.
Standardizing benefits
"Typically, as you increase product quantity, you need a larger container," explains Kumar Nanavati, PCH's director of packaging design and development. "For example, with tablets, going from a 10-count to a 30-count size, you must [increase] the container size. For PocketPaks, we've maintained the same standard size of the card and the vial, even with different numbers of strips. There are a lot of cost benefits to keeping them the same size." He also notes that the two sample items use the same pouch size.
Adds Steve Ginsberg, packaging design senior manager, "I've worked on this project for years, and I'm very proud that we've developed a package that is as innovative as the product. I think we've done something quite unique and exciting."
Companies in this article