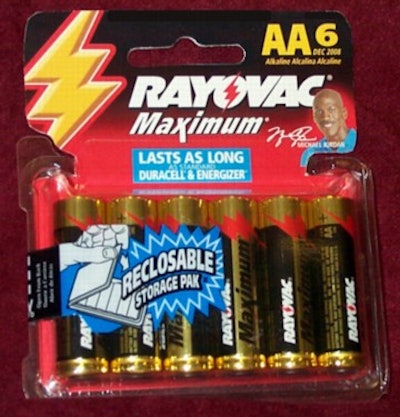 Rayovac's packaging manager Joe Jacobus tells Packworld.com that Rayovac is looking to increase the line to include additional stock-keeping units for these reasons:
1. Ease of opening compared to some radio-frequency-sealed packages
2. Reusability as a storage pack
"One of the added benefits of this package is that it is a peggable product," says Jacobus. "The clamshell captures the display card, which extends through that clam to allow the product to hang on any existing store display."
The one-layer six-pack configuration is made up of 20-mil RPET clamshells supplied by Algus Packaging (Dekalb, IL) and by Plastic Ingenuity (Cross Plains, WI). The design features a hinged clamshell that is reclosable.
Automated process
A 21-pt. SBS was printed in five colors and die-cut by Cardpack (Solon, OH). The cardstock is automatically applied over the batteries on an Algus integrated packaging line. The Algus machine comprises a clamshell denester, clamshell conveyor, pick-and-place units for battery and cardstock placement, and clamshell closing equipment.
Packs then move past twin labelers from Auto-Labe (Ft. Pierce, FL) that both apply a pressure-sensitive label to the pack. The 2-mil clear polypropylene from an unidentified supplier is printed in three colors and wraps around the reclosable side of the pack to provide tamper evidence.
The new 6-packs run on the same line that is highlighted in Packaging World's April issue in the article, Rayovac charges up battery lines. Rayovac has 8-, 10- and 12-count packages for AA and AAA sizes.
Companies in this article