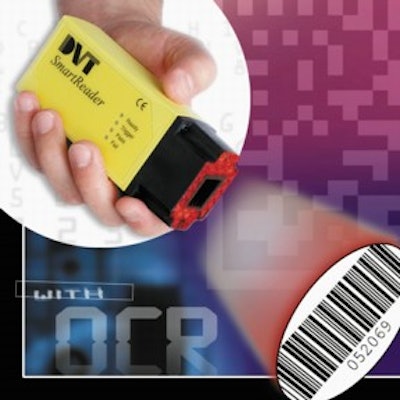 Unlike a sensor, which simply makes decisions based on pass/fail criteria, the new SmartReader has built-in communication capabilities like Ethernet and Modbus Support so that the SmartReader can gather data and use it for date/lot code verification, documentation, and part tracking.
PROFIBUS and DeviceNet are also available with DVT's SmartLink communications box. SmartReader is said to be ideal for companies who are looking for a low-cost system that speaks over Ethernet.
It also includes an OCR package that can be used accurately in poor lighting conditions, according to the company.
Like other DVT products, the SmartReader is able to monitor inspections without the use of a computer on the factory floor. The $2꿃 package includes a lens, illumination, software, free upgrades and training. The software includes Translational SoftSensors that locate the exact vertical and horizontal position, while Rotational SoftSensors track position up to 360 degrees of rotation.
Companies in this article