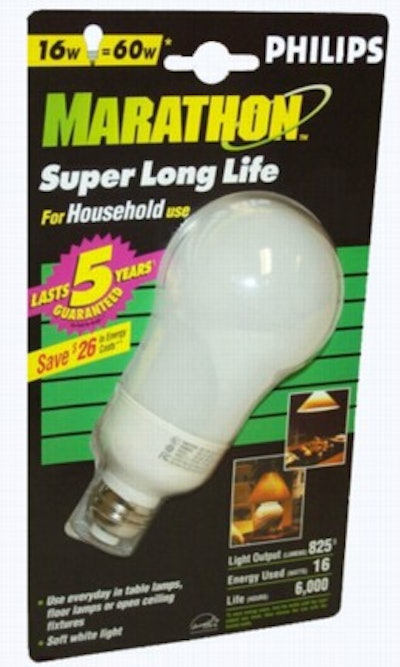 Philips' packaging portfolio manager, Mischa Zwolschen, tells Packworld.com that the company was under pressure to reduce the price of their nonincandescent Marathon bulb due to competition from low-priced Chinese imports. To meet demands, it changed from a 23-pt solid unbleached sulfate board to a 19-pt recycled board, which is offset-printed in four colors. Philips introduced the Marathon package in early 2000 to the North American market.
The package design is based on Ecobliss (Maasbracht, The Netherlands) cold-seal packaging technology, in which a proprietary adhesive is applied to the 19-pt paperboard using a screen-printing process. Philips operates an Ecobliss Model 1228 semiautomatic press. The high-speed press is designed to blister package at rates exceeding 30 cycles/min. At Phillips, four packs can be sealed in a 5-second cycle for a total output of 48 packs/min.
"The big advantage is that the set-up times to change from one product to another is actually no more than 15 seconds," says Zwolschen. "This gives a lot of flexibility in the factory."
In January 2001, Ecobliss licensed its cold-seal technology to two North American companies: Hub Folding Box (Mansfield, MA) and L.A. Coating (Los Angeles, CA).
Quick package assembly
The Ecobliss system requires only pressure to seal. Zwolschen points out that the radio frequency radiation used for a clamshell heat-sealed blister package, which may affect the compact, nonincandescent "Super Long Life" bulb, is eliminated.
The Ecobliss system works on a shuttle action where a fold-over card with a center-diecut is manually loaded into the sealing tray. Two separate thermoformed blisters are loaded onto the fold-over card and a light bulb is placed in the blister. The card is then folded over and hinged from the bottom of the package, completing the assembly of the package. Once the operator presses down on a foot pedal, the seal tray automatically indexes into the seal press where pressure seals the packages.
Zwolschen said that the investment in packaging equipment was less than 50% of the investment that would be required for radio frequency welding.
More savings
With the Ecobliss package, the use of plastic is also reduced versus a conventional RF-sealed blister package. Zwolschen also notes another plus: The increased graphics area on the card allows more space for product and marketing information. In addition, visibility increases because the card is not obscured with a blister thermoform.
Marathon was spotted by a Packaging World editor in a Chicagoland area Home Depot for $9.97.
Companies in this article