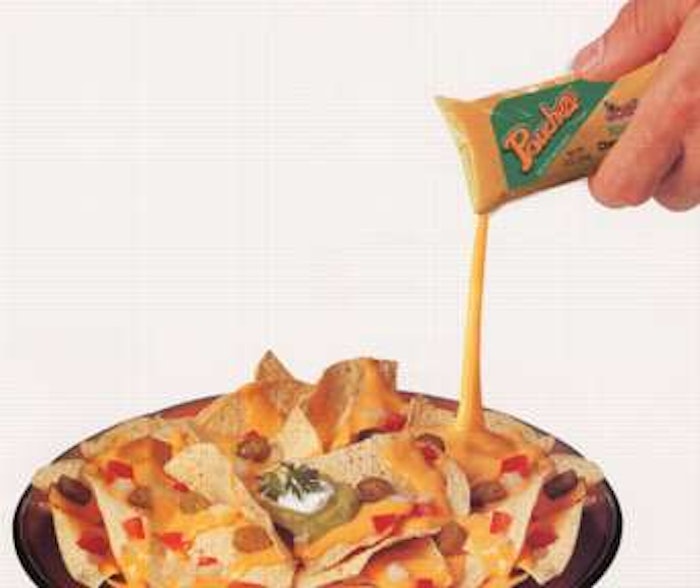 The Dixon, IL-based Dean Foods subsidiary introduced the pouch in July. Dean's markets two cheese flavors in the pouch. These are sold to schools and universities, fast-food outlets, stadiums, hotels, food processors as part of a meal "solution," for home-meal replacement offerings, and to convenience stores.
Poucheze is produced aseptically on a twin-tube form/fill/seal pouching system from Enhance™ Packaging Technologies (Whitby, Ontario, Canada), a subsidiary of DuPont Canada. The process is said to use the same equipment as did an earlier version of the cheese (see Packaging World, June 2000, p. 20). Shelf life is one year. The 3-mil film from Enhance includes a barrier layer of ethylene vinyl alcohol.
"Poucheze has been enthusiastically received so far," says Jennifer Gusse, Amboy's director of marketing. She says the main differences between the Poucheze package and its predecessor are graphics. There's a "tear here" instruction and a black line to show where users can open the pack. Only a clear notch existed before. "And there's much more of a consumer-oriented design with this pack," she says, noting the colorful brand name on the front panel. The film is reportedly flexo-printed in six colors. Gusse credits the design to Johnson Marketing (Orland Park, IL). Amboy sells Poucheze in 175-count cases.
Companies in this article