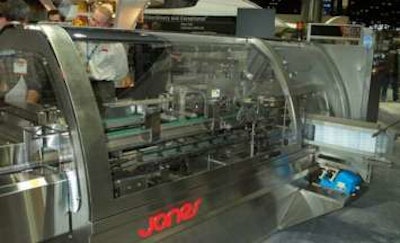 CARTONERS MAKE IT QUICK, COMPACT OR NOT
Two cartoners on display at the booth of R.A. Jones (Cincinnati, OH) were notable for their super-fast changever capabilities: the Mini Compact vertical cartoner featured a 5-min toolless changeover and the CMV2 vertical cartoner with a 15-min, almost toolless, changeover.
The Mini Compact, which runs intermittently at 60 cartons/min, uses quick-change pockets to decrease its changeover time. Also, both the carton height adjustment and magazine are motorized.
On the CMV2 cartoner, fifteen adjustments have been eliminated to reduce changeover time. It runs at 120 cartons/min, with 150/min capability available as an option. Gull-wing doors provide easy access.
VERSATILITY SPEEDS UP NEW CASE PACKER
Featuring a 10-minute changeover in either case size, style or pack pattern with one person, the VersaPack® Model VP35 modular case packer, from R.A. Pearson (Spokane, WA), made its debut at the show. The Model VP35 can automatically erect, pack and seal up to 25 cases/min.
Assorted "modules" can be added or removed as part of the quick changeover functionality. Modules are available for functions such as laning, dividing, accumulating and loading. At the show, the machine was equipped with interchangeable infeed sections that demonstrated how it can be converted from packing cartons to cans in less than 10 minutes.The modular design also allows the user to specify a tape or hot-melt sealing system. The VP35 was also equipped with an optional in-line wraparound module to illustrate changeover from RSC cases to wraparound cases.
The machine features slide-and-lock components and handwheels, and requires no tools for changeover. And it comes with the Actuator Sensor Interface (AS-i) device-level network that is meant to simplify setup and troubleshooting.
FROM TRAY TO WRAP-AROUND FILM OR BOX
On display at the Zambelli (St. Petersburg, FL) booth were samples produced by a new machine that offers 15-min changeover to any of the following pack styles: unsupported shrink bundles, shrink-wrapped trays, partial wraparound cases and full wraparound cases.
Model WLFT is the latest continuous heat-shrink film or wrap-around cardboard packaging machine from Zambelli (Bologna, Italy). According to Zambelli, it is the first machine to pack bottles, vials and containers on cardboard trays, separators and heat-shrink film or alternatively with a wrap-around cardboard box. The changeover from film to cardboard takes 15 minutes.
The patented system features a unique corrugated wraparound box design, which consists of two separate blanks of corrugated board; flutes are vertically oriented for added stacking strength. The lower blank covers the products on the inside and the side. Then the upper blank is folded into an overturned U-shape around the products. WLFT can run 20 to 50 cases/min.
Zambelli reports that the first WLFT is being built for a European user, and it's expected to be up and running by early 2001.
BLUEPRINT PACKS CASES WITH VISION SMARTS
A high-speed, vision-guided bag orienter/sorter was on display at the booth of BluePrint Automation (Colonial Heights, VA). Changeover time on the machine has been reduced to two minutes, according to company officials.
Running 150 products/min at the show, the BluePrint system incorporates the Flex Picker vision-guided robot from ABB (New Berlin, WI). The robot orients randomly positioned bags as they travel down a conveyor in preparation for case-packing by the BluePrint machine.
Immediately following the robotic orienter is BluePrint's Smart-Trak™ collation system. The second generation Smart-Trak collation system collates packages into individual pockets at speeds up to 400 products/min, according to the company.
The entire system accommodates flexible bags from 1" to 28" in size and from 15 g to 8 kg in weight.
THREE-MINUTE CHANGEOVER THERMOFORMER
Doyen Medipharm says its new tool-less changeover MT2500 thermoform packaging machine is the first to produce a range of pack sizes with a single set of seal tooling, resulting in a three-minute changeover.
Right before the show, Doyen (Lakeland, FL) sold its first MT2500 to an unidentified surgical implant device manufacturer in the U.K. That machine runs 17 package sizes with only two sets of tooling.
MT2500 allows for web widths from 11" to 25", repeats up to 24" and draw depths down to 6". The machine is ideal for high-volume packaging at web speeds up to 720"/min (30 cycles/min).
Companies in this article