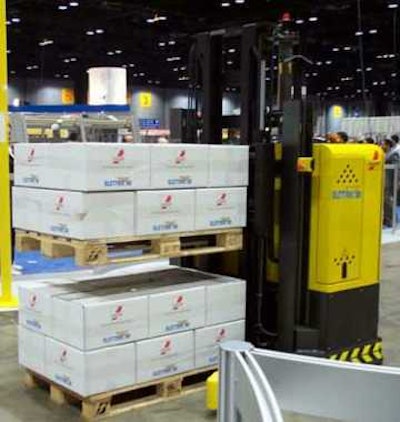 Elettric 80, a div. of Sasib Food & Beverage Machinery (Plano, TX) custom manufactures the "Freeway" laser-guided vehicles. For Latrobe, a fork-style vehicle was designed to pick and place pallets throughout the warehouse. The units also double-stack pallets on top of one another.
The automatic laser-guided system can locate itself and guide itself automatically through a factory. At Latrobe, the vehicles take pallet loads of knocked-down cases to a Pearson (Spokane, WA) Q-2060 automatic hopper feeder. The feeder cuts the plastic strapping and a second Pearson unit takes the case blanks and erects them.
Laser-guided vehicles can also carry full pallets from the packaging line to the stretch wrapper to the warehouse to the loading dock. Vehicle tasks can be changed remotely over the Internet or by downloading tasks via a warehouse management system.
The vehicle's specifications vary, depending on the customer. Sasib says, for example, it can carry eight full pallets with a maximum height of 107" high, traveling approximately 3/4 of a mile in distance.
Companies in this article