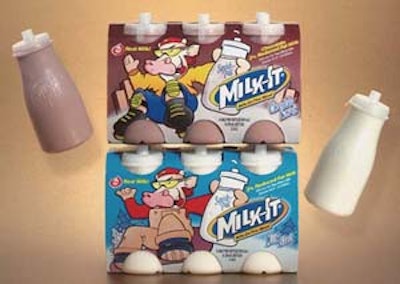 Savvy marketers continue to use packaging to help keep milk "chugging" along as a competitor to other beverages, particularly in the single-serve category. Country Fresh's Milk-It!® exemplifies the trend to market milk in packaging that appeals to consumers.
Country Fresh Dairy LLC is a Grand Rapids, MI-based dairy that's part of Suiza Foods' Midwest Region. Since it first test-marketed the product in '98, the dairy has continued to expand distribution of Milk-It! children's milk in a "soft" low-density polyethylene bottle. Progressive Plastics (Cleveland, OH) injection blow-molds the bottles on a Uniloy Milacron (Manchester, MI) machine. During molding, the machine produces bottles using the thinnest wall thickness possible that will still deliver the properties required by Country Fresh.
Made to fit a child's hand, the bottle's softness allows easy dispensing of the 8 oz of milk through a "sipper protrusion" in the two-piece, injection-molded LDPE closure supplied by Portola Packaging (San Jose, CA). Kids remove a tamper-evident "zip strip" to open the pack, in the process removing the closure's top piece to reveal the sipper protrusion. The top piece can be snapped back onto the sipper piece, which is designed to remain intact on the bottle.
A 22-pt carton with eye-catching graphics is used to contain six of the bottles. It comes from Artistic Carton (Elgin, IL). The milk is sold in three 2% varieties: Chocolate Smash, Milk Blast and as of July, Strawberry Splash. Six-packs retail for $2.99 in select Michigan and Indiana stores. Shelf life is 20 days.
The package evolves
"We began test-marketing the Milk-It! product to about 100 stores in western Michigan in the fall of 1998," recalls Delton Parks, the dairy's president. He says Country Fresh acquired the rights to use the package from Thompson Beverage Systems, the Ft. Lauderdale, FL, firm that invented and patented the Squish Pak!™ package.
Originally, Milk-It! was test-marketed at Publix supermarkets in Orlando, FL, in extrusion-blown LDPE bottles that were filled at a local Dean Foods plant. That was in late '95/early '96 (see Packaging World, Dec. '95, p. 25, or packworld.com/go/milkit).
Since then, the bottle has evolved. The injection blow-molded process provides tighter tolerances that virtually eliminate milk leakage, which had posed problems with early extrusion-blown versions of the bottle, according to Matthew Dudas, Progressive Plastics' marketing manager. Also new for Country Fresh is that the Squish Pak! Name is embossed into the bottle.
Pushing production higher
Country Fresh's Parks says Milk-It! is now in nearly 400 Midwest stores. "Our goal is to push into 600 Midwest supermarkets," he says. The company is also planning to roll the product into markets nationwide, adding equipment to Suiza plants to bottle the product. Currently, the milk is filled at a dairy in New Paris, IN. That plant uses a modified Federal (Milwaukee, WI) filler and capper, at speeds of around 150/min. New unscrambling equipment is likely to be added to speed the line to 200/min to match the filler's capability. An Adco (Sanger, CA) cartoner wraps the paperboard blanks around the six filled and capped bottles.
"The market has shown an excellent reception to Milk-It!, " says Parks, "and we're looking at using this bottle for fluoridated water and juices."
The bottle's success also prompted Country Fresh to use it for a line of single-serve milks that contain additional calcium and other vitamins. Called kidsmilk™, this product was previously sold only in a 57-oz rigid plastic container.
Companies in this article