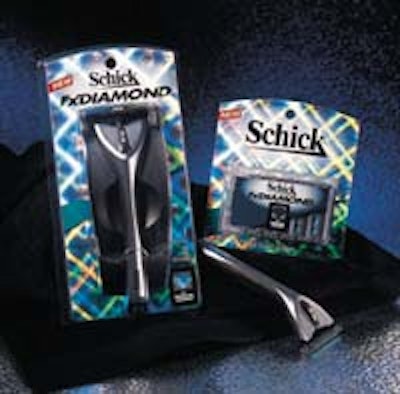 Dick Deardorff, creative director of Fisher, says the designing challenge was to subtly reinforce the "diamond" aspect of the product while creating something that would draw attention in stores.
After extensive color studies and research, Fisher suggested a holographic-based substrate with contemporary color scheme. The package has unique plaid graphics that are rotated 45° to achieve the sparkle and depth characteristic of a diamond, says Deardorff.
The 18-pt C2S paperboard is laminated with a 42-ga holographic film from Spectratek (Los Angeles, CA). Inline printed in 6 colors on a Kamori tower coater, the substrate is UV coated, embossed and die cut by Packaging Graphics (Pawtucket, RI). The cardstock and product are then RF sealed in a 15-mil polyvinyl chloride clamshell.
The five-and 10-refill blade packs look similar to the razor package, however, the refills are held inside a blister that's sealed between two cards.
The Schick FxDiamond retails nationally for $6.49.
Companies in this article