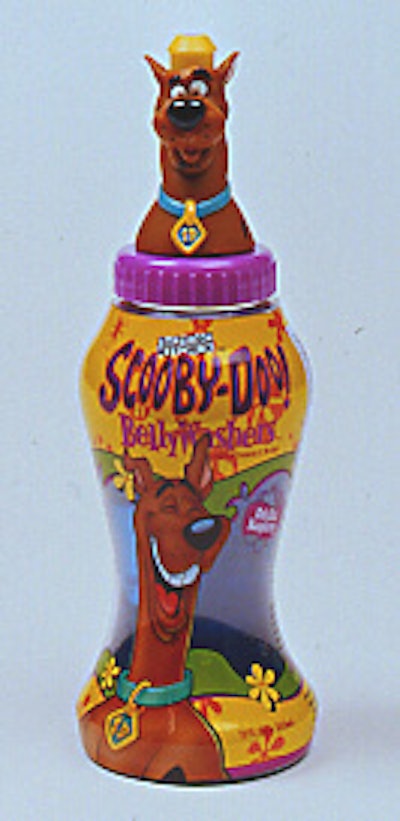 If novelty candies can succeed, why not novelty beverages? That's the question In Zone Brands, Inc. of Austell, GA, asks as it launches Scooby-Doo!™ Belly Washers™.
Custom blow-molded of polyvinyl chloride by Owens-Brockway (Toledo, OH), the 12-oz bottle is wrapped in a PVC shrink sleeve gravure-printed in eight colors by American Fuji Seal (Bardstown, KY). Vice president of sales and marketing Kathy Ver Eecke says making the bottles reusable, and thereby dishwasher safe, led the company to select PVC rather than polyethylene terephthalate. The bottle's pinched middle fits nicely in kids' hands, she adds.
The product concept literally progressed from the top down, says Ver Eecke. She's referring to the Scooby toppers, molded in China. Featuring a variety of licensed cartoon characters, the toppers had appeared on empty sports bottles sold at theme parks since the early 90s before it was suggested that In Zone should use them on beverage bottles for retail sale. A two-year development effort has turned that idea into Belly Washers.
Ver Eecke discloses that one of the biggest challenges has been to automate capping of the awkward, asymmetrically weighted toppers. A custom machine for the task is now nearing completion. It will be installed on the bottling line located at copacker Mar-Key Foods (Vidalia, GA).
Scooby was introduced in one flavor, "Ruh Roh Raspberry", at Target stores in February, and is priced downwards from $2.99. Other novelty beverages will follow, with Power Ranger™ and Powerpuff Girls™ Belly Washers set to debut shortly. A cloudy white "mystery flavor" beverage is planned for pre-Halloween introduction featuring a two-headed Scooby/Shaggy topper. A Grinch beverage, timed in conjunction with the Jim Carrey movie, will bow later this year. In keeping with the character, it will be green-tinted and sour apple flavored, Ver Eecke notes. Intended to appeal to kids, the products' 100 percent Vitamin C content will also appeal to parents.
Companies in this article