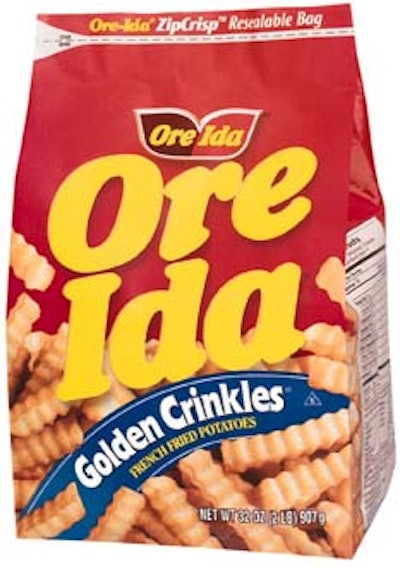 In a major packaging initiative, H.J Heinz of Pittsburgh is launching a stand-up bag with a TransZip™ resealable closure as a replacement for lay-flat plastic bags for all frozen french fries, hash browns and tater tots sold by Heinz subsidiary Ore-Ida Foods of Boise, ID.
"Research showed resealability was the number one feature requested by consumers," says general manager Dan Dillon. "Plus, we were looking for a package that would provide significant impact at retail."
The bold red "double-logo" graphics, also new, are being extended to a range of bagged and cartoned products not slated for the stand-up-bag treatment. This unified graphic treatment, says Dillon, will give Heinz "a dramatic brand block" in the supermarket freezer.
A total of 56 form/fill/seal machines from Bosch (Bridgman, MI) are being installed in a Heinz plant in Ontario, OR, and at co-packers elsewhere in the country to produce the new package. "Lead market tests" of the eye-catching pack began in September in Phoenix and Denver. National roll-out is scheduled to unfold throughout the summer.
The multilayer package material is supplied by Printpack (Atlanta, GA) and Banner (Oshkosh, WI). The sealant is made of a linear low density polyethylene coextrusion with a nylon core for durability, barrier and moisture protection. The polyester outer layer is reverse-flexo printed in seven colors.
The material is fed from rolls to the Bosch Model SVB3601 R machine, which has a rated capacity of 50 bags/min, depending on size. The largest bag from Ore-Ida will be a two-pounder. Heinz declined to answer questions about the cost of the new package compared to the format it replaced.
Companies in this article