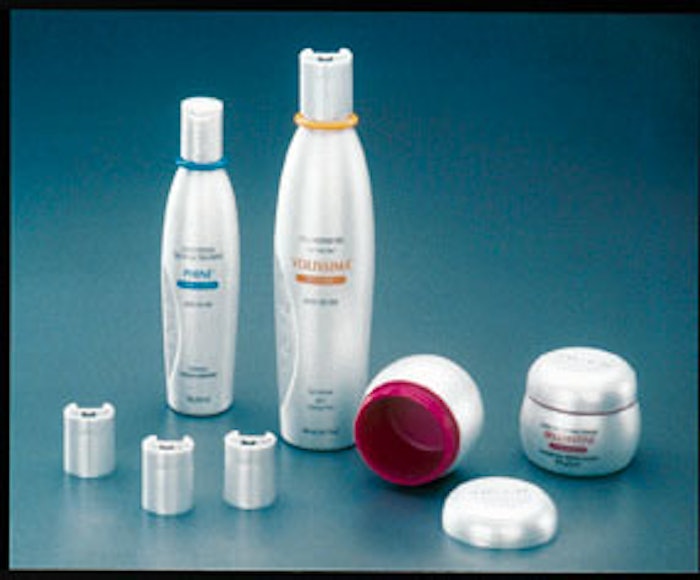 Sold only in salons, the eye-catching new silver bottles and jars are an update from the previous straight-sided light-blue packaging. "The new packaging looks much more contemporary," says Leann Dake, director of communications for Joico.
The bottles are extrusion blow-molded of high-density polyethylene by RXI Plastics (Los Angeles, CA). As with the original bottles, they feature a notch on the side inscribed with the Joico name that allows the user a better grip when squeezing the bottle. New are color-coded neck rings that make the different formulas easily identifiable.
"We wanted to make it easier for stylists to locate the desired product for use and recommendation in the salon," says Cathy Frangie, vice president of communications. "Subsequently, consumers will find it easier to distinguish Joico product categories and pick up the right product in the shower." RXI screen-prints the bottles in two colors. An injection-molded silver polypropylene closure from CCL Plastic Packaging (Plattsburgh, NY) completes the bottle.
The upgraded line also includes a double-walled jar of pomade, injection-molded of PP by CCL. A red stock jar is nested inside a custom silver outer shell that complements the bottle's shape and colorful neck ring. At CCL, the jars are manually placed in the shell and sent on a conveyor. A roller then compresses the jar into the shell. The jar-shell combo then moves on to the printer at CCL, where they are screen-printed in two colors. CCL also provides the 58-mm injection-molded PP closure.
Available in salons worldwide since June, the Joico hair-care line retails for $5.95 to $8.95, depending on product.
In a hurry? Request more info via Web-based reader service by clicking on company name.
Or you can jump right to their Web site.
Companies in this article