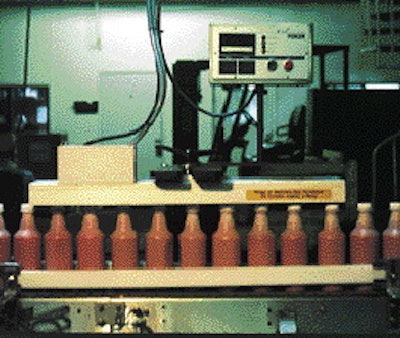 According to Ron Obara, director of custom packaging at Wood, Pillar Technologies (Hartland, WI) proved to be the best candidate to supply the induction sealing equipment for the job.
"Time was critical," says Obara, "and Pillar was able to get the equipment here when we needed it." The 4kW Foiler 2450 induction sealer came with 50' of output cable so that the power supply could be located far enough from the filling line to prevent damage caused by the steam and vapors of the packaging line.
The 32-oz bottles filled at the Atwater, CA, plant are extrusion blow-molded of high-density polyethylene. Milk is a key ingredient in the smoothie base. Ordinarily a low-acid product like this would require fill temperatures in the range of 250°F to make the product and package shelf stable.
However, this smoothie formula includes ingredients like citrus acid that help lower the pH to a point where fill temperatures well below 250°F kill enough bacteria to provide shelf stability. Obara isn't saying what the fill temperature is, but it's apparently low enough for these particular HDPE bottles, supplied by Pretium Packaging (Clayton, MO), to stand up to it without sidewall collapse.
Filling speed is 200 bottles/min. "Induction cap sealing with the Pillar machine helped us meet our line speed objectives," says product manager Joe Valdez.
Companies in this article