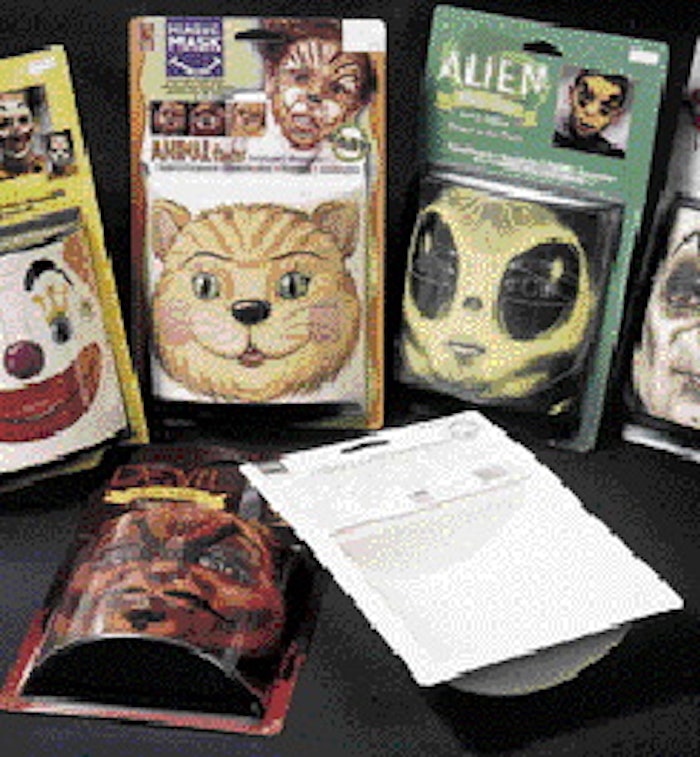 Completing the package is a paperboard header card heat-sealed to the plastic thermoforms.
"We wanted to show the full features and to create some depth to the display," says Eric DeLattre, plant manager at the Minneapolis, MN-based Party Pals. "This package sticks out in a retail environment where a lot of these packages look the same."
Brookdale Plastics (Plymouth, MN) produces the thermoforms from 15-mil polyvinyl chloride. Each clear front blister is made from a custom mold. It forms a pair of eyes, a nose and a mouth to produce a multidimensional effect. The concave back thermoform is either white or black high-impact polystyrene. The mask is placed in the clear thermoform. Over the mask goes the opaque thermoform and then the die-cut header card. The flange of the clear thermoform is wider than the flange for the opaque. This allows the clear thermoform to be heat sealed to the card while the opaque thermoform becomes trapped in between the two. Dot Printing (Chicago, IL) prints the 18-pt SBS header cards on an offset press in four colors.
The masks are available nationally at Target stores and retail for $4.99. As this issue went to press, DeLattre said the masks were selling quickly. "The early reaction we received was that it was flying off the shelves," he said. "They were selling early, which is not typical for Halloween stuff."
Companies in this article