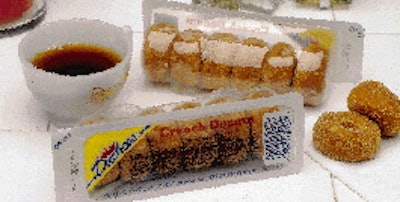 For years this Charlotte-based bakery has used flow wrappers to package its Crunch Donuts in modified atmosphere packs. Shelf life, however, was never more than 30 days, as company president Paul Scarborough explains.
"The flow wrappers couldn't get residual oxygen levels low enough," says Scarborough. "With the new machine we can get to less than one-half of one-percent residual oxygen. It's important because this particular donut is high in shortening, and shortening in the presence of oxygen can go rancid."
The MAP equipment selected by Carolina Foods is a roll-fed thermoform/fill/seal system from Multivac (Kansas City, KS). It forms 2"-deep packs 12-up at 13 cycles/min, and workers manually load each pack with six 1/2-oz donuts . After evacuating and backflushing with a mix of carbon dioxide and nitrogen, the machine seals printed clear film lidding in register. Scarborough elects to identify neither packaging materials nor suppliers.
Running for about a year now, the MAP equipment gives Carolina Foods a 50-day shelf life. This has allowed the firm to expand distribution significantly, both for its own brand and the brands of customers for whom it contract packages. Finally, the semi-rigid package helps differentiate the product from comparable snack items in flexible films while protecting it from the rigors of distribution and vending machine dispensing.
Companies in this article