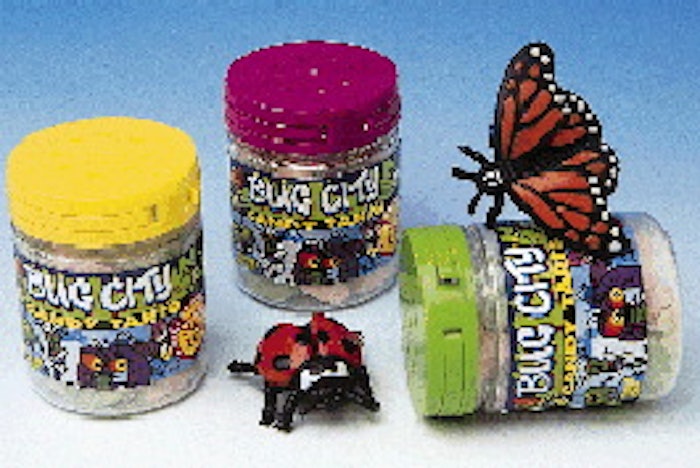 But the threaded closure used previously was causing problems on the packaging line because the threads wouldn't align properly, thus causing a jam at the capper, says Steve Paral, director of purchasing for Yorkville, IL-based Amurol Confections.
In partnership with distributor Berlin Packaging (Chicago, IL), Waddington Jaycare (Carlstadt, NJ), the maker of the Bug City jar, approached Amurol with a solution: an injection-molded, low-density polyethylene stock closure that snaps on for smoother application on the line. What's more, Waddington Jaycare uses mold inserts to punch airholes in the 53-mm HingeGard® closure, so kids have a reusable critter cage after the candy is gone. The candy is kept fresh with a removable foam liner inserted under the lid.
Paral hopes the fall release of two insect-related movies ("Antz" and "A Bug's Life") will ignite kids' interest in bugs, and therefore, his product. "We have a variety of counter and floor displays that we hope to promote by ourselves out in the marketplace while the subject matter is hot.
The 42# paper label has not changed. It's flexo-printed in six colors by MPI Label Systems (University Park, IL).
Bug City retails for 89¢ and is available across the U.S. in convenience, drug and grocery stores.
Companies in this article