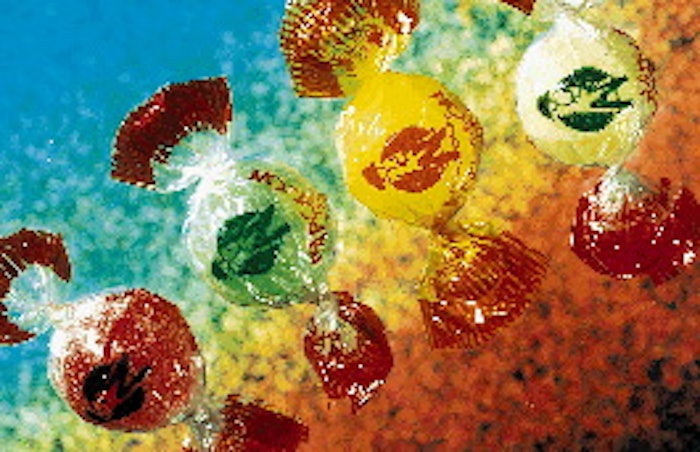 The Antwerp, Belgium, firm chose Star-Twist film for its sparkle and transparency and its performance on the packaging line, says director Bruno Van Dyck. "The spherical shape of our product puts extra demands on the film, and we are extremely impressed by the very tight twist that Star-Twist provides."
A cellulose 220 (22ꯠ sq"/lb) grade, Star-Twist is a cast cellulose film. In tests, says UCB, it gives up to three times the twist performance of comparable materials. Van Dyck says the film also has improved gloss and sparkle and good printability. Another benefit includes good machinability characteristics, eliminating the need for anti-static washes or costly machine modifications.
"Star-Twist runs remarkably well on our packaging machines with exceptional material handling, excellent twistability and virtually no miswraps," says Van Dyck. "We use a considerable length of conveyor to transport the wrapped sweets to the bagging machines, and it is noticeable that, even on the elevators, the wraps remain impeccable."
The film, printed flexographically in four colors, replaced a traditional cellophane. Van Dyck says the new film also saves them money. "There is a reduction in direct cost because the material is a lot lighter than what we used before."
Companies in this article