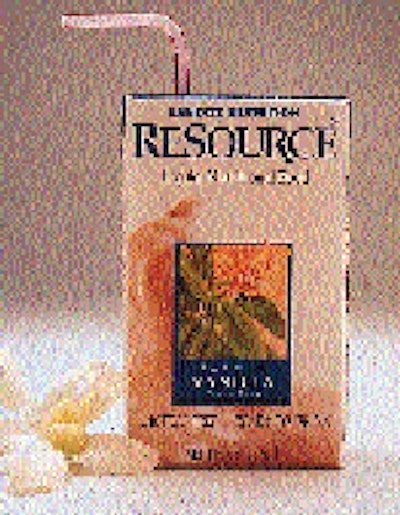 Resource represents the first joint venture between Minneapolis-based Sandoz Nutrition Corp. and its affilliate, Gerber Products Co., Fremont, MI. Brian Johnson, product manager for Resource, notes that the aseptic brick packs, from Tetra-Pak (Chicago, IL), stand apart from competitive products sold in metal cans. An easy-to-open, pull-tab design makes the package senior-friendly.
Sandoz uses two Tetra AB-9 vertical form/fill/seal machines at its Minneapolis facility to aseptically fill 8 oz of product into each carton, at rates of approximately 100/min. Resource is sold in four flavors, within a three-pack that retails for $3.99 to $4.39 at mass merchandisers, and food and drug outlets. Prior to its retail launch last August, Resource was sold to hospitals and nursing homes, within the same 8-oz brick.
"Resource's positioning and unique packaging offers noticeable trade and consum-er benefits," notes Kim Hayes, general manager of new business, Gerber Products. "The three-pack stimulates trial and offers consumers a price value because it costs less than the competitors' four- or six-pack."