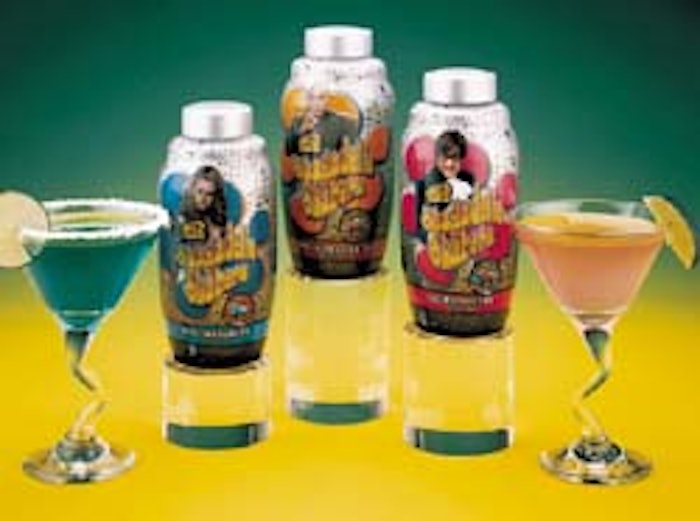 For its new Shagadelic Shakers line of cocktail mixes, Stamford, CT-based Mott's chose a marriage of James Bond-era shakers and '90s spy sensation Austin Powers that's just groovy, baby, yeah!
All three Shakers flavors - Cosmopolitan, Long Island Iced Tea and Blue Margarita - are packaged in cockatil shaker-shaped bottles decorated with characters from New Line Cinema's "Austin Powers: The Spy Who Shagged Me." Label graphics on the shrink-sleeve label feature a water droplet pattern that mimics the metallic look of astinless steel shaker beaded with condensation.
The 22-oz. containers provide 12 0z. of drink mix as well as a step-by-step recipe for completing the drink right in the shacker. The consumer twists off the silver cap, removes the high-density polyethylene pouring fitment and peels off the induction seal membrane. A 'Shake-O-Meter' directs the user to fill alcohol or soda to a line marked on a clear strip in the label, then add ice up to another line. After replacing the pouring fitment and cap, consumers shake their concoction, remove the cap and pour.
The cap, pouring fitment and induction seal come all in one piece from RXI Plastics (Tridelphia, WV). The bottle's full-body polyvinyl chloride shrink-sleeve label is gravure-printed in eight colors by American Fuji Seal (Bardstown, KY). Extrusion blow-molded by Graham Packaging (York, PA),the five-layer bottle consists of HDPE/tie/ethylene vinyl alcohol/tie/HDPE. Denise LeFebvre, brand manager at Mott's, say the EVOH barrier reduces oxygen permeation. Shelf life is estimated at nine months to a year.
Although LeFebvre points out that the bottle is recyclable in markets with a developed stream of HDPE recyclate, Mott's senior product manager Joanna Ebert believes the novelty of the bottle may make it a keepsake. "We're not expecting people to throw [the bottles] away at all," she says. "The packaging is the product."
The shakers retail for $2.59 to $2.79 and are available in liquor stores, supermarkets, bars and restaurants nationwide.
Companies in this article