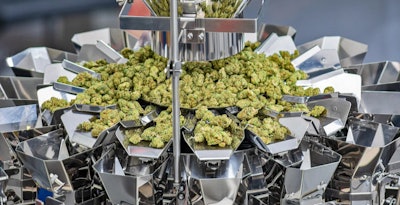 In its 11th year, MJBizCon has grown so much that 2022 was the first year the event took up both floors of the south hall at the Las Vegas Convention Center. Now with a dedicated packaging and processing pavilion, Spee-Dee, Canapa by Paxiom, and Heat and Control each offered unique cannabis packaging machinery solutions.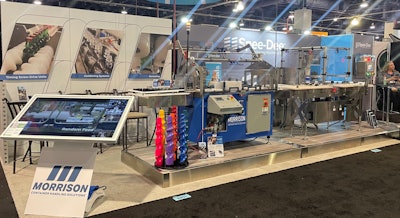 Spee-Dee Packaging Machinery Inc. featured a line solution that included Morrison Container Handling Solutions, Wipotec, and Simco-Ion. Morrison's ionized air riser was described as the first line of defense for cannabis customers looking to remove foreign substances that may enter a potential package before filling. The rinsing application utilizes Simco-Ion air ionizing technology to clean the container by inverting the container with Morrison's timing screw twist technology. Running at up to 60 containers per minute, the ionized air helps dissipate any static buildup in containers and removes unwanted particles. The screw reverts the container's right side up and presents them onto the Spee-Dee Cannabis Tare/Gross Conveyor (TGC) Handling System. The net weight system uses two high-accuracy Wipotec EMFR weigh cells. (Wipotec also
The system ensures accuracy with servo-driven star wheel indexing containers. An upstream photo eye detects each container, but the system will stop the fill action if a container is missing. The first station establishes the tare weight of an empty container, and the second station transitions the pre-measured flower or gummies from a Yamato combination scale to the container. A pneumatic diving nozzle covers the top of the container to ensure the cannabis is packaged, while an air cylinder under the container taps its bottom to settle the product. The third station measures the gross weight and subtracts the corresponding tare weight to determine the exact net weight packaged. Containers within the acceptable range are conveyed down the accept lane, while those outside the scope are rejected so they can be recycled back into the combination scale.
Canapa by Paxiom utilizes the many aspects of the Paxiom family of packaging machinery to offer solutions in line with the company's long history in the food packaging sector. At MJBizCon, Canapa offered turnkey solutions, including a Cannabis Flower Turnkey Bottling system that takes flower from filling to cartoning. The line includes high-speed capping, induction sealing, labeling, and check weighing solutions and is finished with end-of-line solutions, including cartooning, carton labeling, case or tray forming/packing, and robotic palletizing.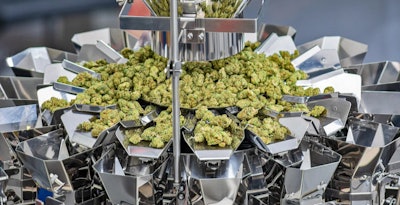 Heat and Control showcased its small footprint Ishida CCW-RV Micro Multihead Weigher aimed at ensuring high quality and low giveaway. The weight measures ultra-low target weights at high speeds (from .5g to 50g at up to 120 weighments per minute.)
Companies in this article