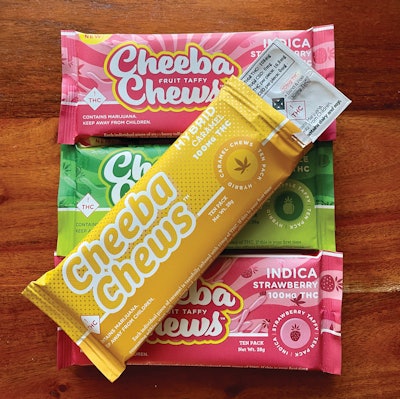 Founded in Colorado in 2009, Cheeba Chews is a long-tenured brand by cannabis standards. Founders were edibles pioneers and early adopters of accurate, consistent THC dosing in precisely sized, individually deposited taffy chews back when an edible product potency, usually in brownies or cookies, was anything but consistent or accurate.
The brand hit its packaging stride in 2014, when Colorado legalized recreational cannabis and began regulating. After a transition to meet the then new regulatory standards, Cheeba Chews settled into a child resistant-certified (CR), 10-cavity blister-pack format using a multilayer paper/foil CR lidding solution from Constantia with Klöckner Pentaplast rollstock blister forming material, and FormTight as the local thermoformer. This general format is still used today.
Each cavity in the individually portioned 10-pack (5x2 format) blister strip holds one 10-mg piece of single-dose, THC-infused taffy. Dosing and other pertinent details, varying by SKU, are printed on the pack. The foil/paper-backed blister strip is then flow wrapped in printed film. The whole system is dialed in for production, packaging, and distribution in Colorado and California, early markets in which Cheeba Chews played. But the recent spate of states legalizing recreational cannabis offered potential for the brand to expand outside into new markets.
"We were able to operate Colorado and California by ourselves, and we're a small business. There are three of us at the ownership level, and we have zero debt, zero investors." says Eric Leslie, co-owner, CMO, Cheeba Chews. "As new states began to legalize, we were able to establish more of a licensing model to operate in multiple states. This led us into is opportunities in Oklahoma, Nevada, and Massachusetts. In this licensing system, we ship our base taffy or our gummies [before adding THC extract or oils, which cannot be transported across state lines], along with packaging components and equipment knowledge, to our partners."
Those Cheeba Chew partners are separately licensed in their own state, with their own state-licensed kitchen facilities. They then have to source their cannabis extract or oil locally.
"So, they source their oil, and we ship them the base taffy product and packaging," Leslie says. "We set them up with a manufacturing process and machinery, walk them through training processes, and they operate their kitchen and do the infusion process in order to take it to market."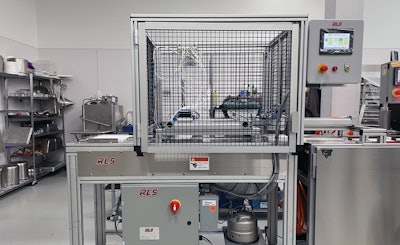 Having started in Colorado, which is very dry climate, Cheeba Chews had developed tried and true processes and manufacturing equipment, and it made sense to license that whole package together for the new market partners. But going into a place like Massachusetts, even Oklahoma, even California, the company began to see a lot of variables across multiple kitchens. Depending on the humidity at which it was processed, taffy product sticking to blister cell walls became an issue.
"Even within the same state, different kitchens have different humidity controls," Leslie says. "When take the same taffy manufactured in Colorado, ship it to Massachusetts, they cook it down, and then infuse it, they are doing so in a kitchen with higher humidity, so they're collecting more moisture in the taffy process that changed the viscosity. That changed the behavior of the taffy and how it interacted with our thermoformed trays. Taffy wasn't popping out for the consumer the same way that it was in this dry climate in manufacturing here in Colorado."
Another challenge that revealed itself was that in some states, cannabis edibles brands are required to stamp or mark individual pieces of candy to identify them as cannabis products when they are outside of the pack. Massachusetts is one of these states. That's easy enough with a gummy, which holds its shape out of the mold. But taffy, no matter how firm a local licensee can cook it to be, is going to slightly reshape itself, and won't hold that symbol once it's outside of the tray. That meant that they couldn't simply think about other forms of packaging outside of the individual trays.
"We really need to hold it in that tray, in that single indentation, in order to stay compliant in multiple different states," Leslie says.
Automating a solution for themselves
The home-grown solution to the taffy sticking to trays, which came with the help New Jersey equipment partner RLS Equipment Co. Inc., is what's called a swabbing station. In early 2020, Cheeba Chews and RLS co-developed an automated, in-line swabbing system with 12 sponges on a motorized arm. Each sponge is able to dispense, via feeder tubes, a thin layer of food-grade oil- and wax-based agent. This is swabbed into the sides and bottom of each cavity, preventing taffy from sticking to the internal blister walls of the thermoformed tray.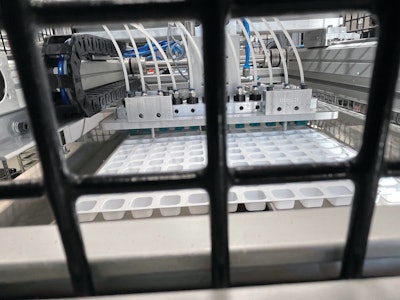 "Whether the taffy does have some more moisture to it, depending on the location, and if it's a little bit softer, it's still releasing and falling out of the tray like it's supposed to," Leslie says.
Why 12 sponges for a 5x2 cavity pack? Keep in mind, the thermoformed blisters that will eventually be 5x2 10-packs arrive to the facility as 12x10 format, 120-count trays. They are filled with THC-infused taffy product in that larger 12x10 format via a modified Egan Food Tech chocolate depositer. Only later will they be cut into 12 separate, 5x2 10-packs prior to flow wrapping. The swabbing system covers an entire 120-cavity tray.
---
---
Given an oil- and wax-based agent was being applied to the trays, an early concern was maintenance of a solid lidding seal if the swabbing sponges left a trace amount of agent on the sealing surface rather than within the cavities. Fortunately, the lidding supplier Constantia had been working on that problem for other applications and had a new lidding product at the ready.
"While a lot of third-party solutions that are available, there's a lot of up mark on the solution from the whoever owns the CR certification, to the material providers, to the guy selling it to you," Leslie concludes. There's a lot of pennies being stacked on top when you just go get a clam shell, or you get a pouch, or a jar. By working directly with an OEM, and certifying our own solution, and going through some of these painful R&D processes, we were able to keep our cost down to provide a solution that not only is cost effective, but we can scale it into any market in the U.S. and still be compliant with the state regulations."
What's next
With its own Colorado machine up and running, Cheeba Chews has since installed swabbing stations in California and at the Oklahoma franchise. Franchisees in Massachusetts and New Jersey are next up to adopt the swabbing station solution.
But Leslie says that he realizes this suite of product, packaging, equipment, and IP can be a big investment, depending on the market. Potential licensees in big states like New York, Illinois, or New Jersey can readily justify this investment, but not all new markets can.
"We are now finalizing is a small state solution that still has the same process," Leslie says. "You're still going to have swab trays. You're going to have depositing, maybe in manual capacity. Maybe you go into a pouch instead of flow wrap outer package, or a more manual process. But a [licensee in a] state like New Mexico doesn't need a six-figure manufacturing setup in order to execute, because the demand doesn't require that much of an investment. We're looking at more manual processes—it's still machinery, just more semi-automatic—where it's going to take multiple steps to get you to that same solution. But we're working on making sure that a small state, like New Mexico, can still operate to scale alongside a big state, like New York, that's going to need more robust, automated systems." PW
Companies in this article