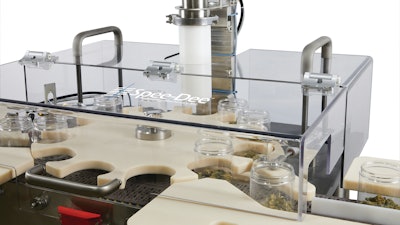 Maybe it's stating the obvious, but as the cannabis industry rapidly matures, manufacturers in the space are becoming more sophisticated. Packaging World has several times reported on the progress of Green Thumb Industries, a Chicago-based cannabis brand owner that's taken a decidedly CPG-oriented approach to the marketplace. Other than having to jump through an industry-specific set of regulatory hoops surrounding the cannabis it produces, Green Thumb operates very much like any other CPG or brand owner, say in food, beverage, or personal care. As such, packaging gets it rightful seat at the table as a fundamental consideration when going to market.
Even within Green Thumb's own stable of brands, multiple brand players are strategically differentiating themselves. For example, there's not just one cannabis flower offering, or just one vape or tincture offering. Within each category, several different Green Thumb brands are carving out individual niches for themselves on the quality and price continuum. Packaging plays a role in this spectrum, too, as one brand plants a flag on premium quality, another on value, and others on attributes like sleep, wellness, or euphoric effect.
And it's not just the consumer-facing elements of packaging that are becoming so sophisticated. With volumes increasing and workforce reliability strained, Green Thumb's many brands are increasing their use of automation at production facilities in ways that would be unrecognizable to the highly manual first wave of cannabis manufacturers. The latest Green Thumb facility bears closer resemblance to a current Mondelez or PepsiCo plant than it does an early 2000s-era California or Washington cannabis production facility.
---
---
Toby Strickland, Fusion Support Services LLC, an automation acquisition consultant who works closely with Green Thumb, explains the shift: "When I first came to Green Thumb to start working on packaging automation, what I discovered about the industry—not just Green Thumb, but the industry itself—is the emphasis had always been on cultivation, harvesting, extraction, and similar operations. These companies spared no expense to do these things and have done them very well. But packaging was always an afterthought. It was typically just people manually packaging product. Well, two factors started to create the need for some level of automation. One was scarcity of labor, though that was probably secondary. More important was the upstream volume they were trying to process. They were upsizing all of their grow rooms, and they were getting so much more output from the grow side that they needed more speed of 'out the door' for packaging. You had the need to get more product packaged, and quicker."
This is generally true of any industry, but there's a quirk to cannabis that only exacerbates the situation. When you have the large amount of biomass upstream from the packaging operations, there's no way of stopping it from streaming down.
"Cannabis is not like in traditional CPG, where you can just turn off the production. You can't just close the valve in this industry," says Bryce Watters, Regional Continuous Improvement/Lean Manufacturing Manager, Green Thumb. "The flowers are always growing, and there is a timeline involving drying, curing, and post-harvest steps. It's a schedule that you really need to stick to. That translates to needing a packaging department that's able to outpace the grow operation. That means automation."
Case in point: RYTHM Cannabis Flower
RYTHM is a Green Thumb brand that resides at the crosshairs of this growing sophistication in both packaging automation and brand positioning. RYTHM operates squarely at the premium, top-quality end of the cannabis flower (also called bud or nug[get]) totem pole.
---
---
"There's several different categories for flower in the market," says Watters. "You've got your first cut, if you will, which is your big premium nugs. And then you have your second cut, which is a lower tiered-marketed nug. But the RYTHM brand is for the premium flower, which means it's those really big, nice, juicy-looking nugs. When you open the jar, you're taken aback by the appearance, flavor, and smokability of it."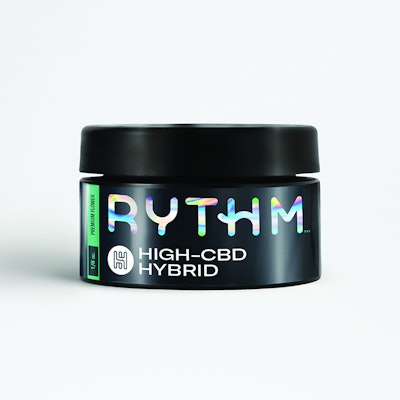 Most flower is either sold in flexible pouches or lightweight HDPE jars, but RYTHM brand managers opted for a heavier, premium painted glass jar so the package experience would match the premium-quality product and price point. Until recently, these were hand-filled by workers. But increasing volume and worker shortages made this packaging operation ripe for automation.
But first, the existing format would need a few tweaks. Though the jar's contents were and would continue to be 3.5 oz of product, the jar would need to be larger than the legacy pack to accommodate automation. While human labor is slow, it's adept at manually placing differently sized and shaped buds into a tight space, like puzzle pieces. Most equipment can't match that capability.
"Basically, our first task was bud-sizing," Strickland says. Automating the line would require the buds to free-fall into the jar rather than be carefully, purposefully placed in the jar. "We worked together to create a 'bud spec' that specifies that our buds are at least this large, but then no larger than that, because they have to free-fall into the jar. The bud spec drove the jar size, and then at some level, the jar size drove the bud spec. There was some work around bud sizing and jar sizing for automated equipment."
Meanwhile, research on equipment took a three-pronged approach, with Strickland assessing entry-level machinery, what they called value systems in the intermediate category, and premium machinery. Another unique wrinkle in the cannabis industry exerted some influence in how equipment was chosen.
"I came from the CPG industry where I would design and install multi-million dollar systems to supply two-thirds of the country," Strickland says. "Well, in this world, you can only distribute in the state you're in, so there's a unique challenge to try to find the level of automation that you need, at the price point that you need, while being able to justify it. So, I did an options analysis of several entry-level systems, several value systems, and several premium systems."
After some trial and error with some of the entry-level and value systems, Strickland came to the predictable conclusion that you get what you pay for. Meanwhile, Green Thumb's latest grow and production facility was coming online soon.
"What we had learned at the other facilities with the entry-level and the value systems led us to the decision to go with Spee-Dee, which is considered a premium, A-level vendor," Strickland says. "Spee-Dee's contract provided for integration of a full packaging line [more on that on page 44], but the centerpiece of the equipment is what's called a tare gross weighing system."
The tare gross weighing system
Cannabis is an expensive product, more in line with cosmetics, nutraceuticals, or high-end spirits than more commoditized packaged goods found elsewhere on retail shelves. There's a lot of IP, horticulture, and grow and processing time that goes into each cannabis flower before it arrives at the packaging stage. Overweights and product giveaway eat deeply into profitability. Meanwhile, consumer expectations are high, especially for a product like RYTHM that's positioned as premium. Underweights are heavily frowned upon, to put it mildly. The preciseness of the weight was key.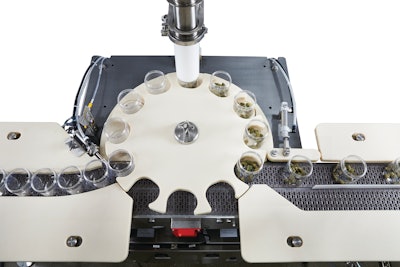 "But we knew, through research, that the empty jars themselves would vary sometimes by a gram, a gram and a half, even two grams," Strickland says. "And you can't have that kind of weight variation when you're dealing in tenths of a gram. The traditional method of weighing product into a jar, and then trying to send it across a checkweigher, was not going to be effective at these precise weights."
Mark Navin at Spee-Dee suggested what the company calls its tare gross weighing system, which is uses a starwheel flanked by two scales, one for before and one for after filling. It weighs the empty jar, fills the jar with cannabis flower, weighs the filled jar, and thus validates the weight by comparing the feeding scale weight versus the post-fill scale weight.
"It's validating, in real time, the weight that you just put into the jar, which I thought was clever," Strickland says. "You have the ability to set overweight and underweight limits. Of course, in the cannabis industry, there's no such thing as an underweight. There's no maximum allowable value yet, but I think when we specified the allowable range, we began around 3.5 grams per jar, minus zero, plus three-tenths of a gram. That was the weight range we were looking for, otherwise the system rejects the filled jar."
In yet another wrinkle that's somewhat unique to cannabis flower, there's a high degree of variability in size between each individual bud or nug. This factor further highlights the importance of the bud spec, originally completed before the equipment was selected.
"There had to be a mixture of large and small buds, and the system had to manage the combinations it needed to give you the precise weight," Strickland says. "It's hard to hit a tenth-of-a-gram target when you've got a scale full of two-gram buds, but it all worked together nicely."
"It's a really good system," Watters adds. "It's a very clever design for managing variable-weight jars. And it has a good system for managing checks and balances, so that the consumer never feels like they're cheated by not getting their correct weight. It pretty much eliminates the possibility of a consumer getting an underweight jar."
Clearing cap threading and labeling hurdles
One early hurdle in integrating the line was related to the capping operation. The black-painted jar posed some challenges since there were white threads on the inside of the cap. If the capper ran too fast, operators were seeing some white dust on the outside of the container, not a good look for a premium product. It forced Spee-Dee integrators to pivot, switching from a single-head capper to a three-head capper to keep the RPM of each spindle down.
"We had other cappers on some of our value systems that were single-head, but the throughput speed was less than half the rate of the Spee-Dee line," Strickland recalls. "So that single-head capper would work fine at those slower speeds. But on this line, which runs at about 40 jars per minute, the single-head capper from Arol was just having to run too fast and having to torque it on so fast that it was doing a little bit of damage to the cap. So, they switched to the three-head capper from Arol to manage that speed, and the problem went away."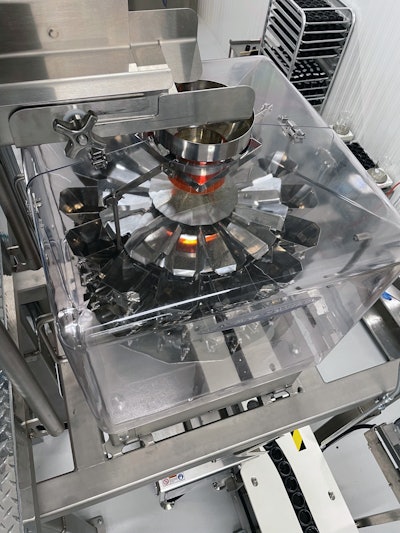 Another issue that the team faced early on in the project had to do with the amount of variable data that needed to be printed, in-line, onto RYTHM's pressure-sensitive labels. Each jar of cannabis must contain information about the specific batch of cannabis flower it contains, including THC and CBD content, dates, and other batch-specific information. On its face, that shouldn't be a problem. But there were complicating factors. The high line speed (for the industry), the luxury matte finish of the label rollstock and how it took ink, the premium silver/metallic print ribbon, and the variable jar geometries all conspired to cause problems.
"In general, labeling is not the most difficult thing," Watters says. "However, if you have variation on your infeed from jar to jar, it definitely does make center-lining those labeling machines quite difficult. And that setup is very important. What we find is we have quite a bit of geometric variance in our jars, often from a millimeter to a quarter of a millimeter, even to two millimeters. It really does impact us in that respect, especially considering you're also applying a tamper-evident seal to the seam between the cap and the jar. The placement of that really does matter."
Today, RYTHM uses two labelers on the line—Tronics brand printers with Zebra printheads purchased from Chicago Coding—that not only keep up but, combined, outpace the whole packaging system. Each printer is specified for 30 jars/min, so cumulatively they can run at 60 jars/min, outpacing the 40-jar/min system.
Full packaging line
As one might expect, the RYTHM cannabis flower packaging line by Spee-Dee has two main inputs: cannabis flower and jars. The infeed for the flower is through an Ishida/Heat and Control multihead combination scale with product infeed conveyance from Heat and Control. The combination scale sits on a mezzanine from Stainless Specialists. Jar infeed occurs a bit further upstream, where manual depalletization occurs from the pallet to an accumulation table. No jar orientation by the operators is necessary here; they can just place the painted jars on the table.
"That accumulation table single files jars and are fed into a Morrison Container Handling Solutions air rinsing system. It uses just the right amount of back pressure to feed into a timing screw rinsing system smoothly so there isn't any jamming," Watters says. "The Morrison system flips the jars upside down to expose the opening of the container, where ionized air is used to blow each jar so you're not having any dust particulate or whatever might be caught in the jars in the manufacturing process."
From there, clean jars travel into an infeed conveyor that introduces them to the Spee-Dee tare gross weighing conveyor. That's where the jar supply line meets the flower supply line—in the tare gross weighing conveyor below the Ishida scale. Now in production, the scale typically doses between 3.52 g and 3.55 g into each jar, and the jar weights are validated by the tare gross weighing system.
"From there, outfeed is dependent on the math that the tare gross weighing system is doing in the background," Watters says. "If a jar doesn't meet its target weight, it's rejected right there. But if it does, the system will send it through the accept lane, which is the lane that's going to feed capper."
Handling rejects is important since cannabis flower is expensive product. Though the jar, label, or cap may be relegated to scrap, the cannabis flower certainly isn't—at least not frequently.
"Even if it were one or two jars per minute that were rejected—which typically isn't the case—you definitely have enough time as a filler operator to make a quick adjustment. If you need to add some more flower, you add some more flower to it. If you need to remove some, you remove some," Watters says. "If it's a sizable number of rejects for some reason, you just dump the contents back into the top of the conveyor in the Ishida, and the system will do its math again."
Next, the jars containing validated product weights move on to capping. Because it's a three-head system as opposed to a one-head, the Arol capper is able to outspeed the filler. That allows the filler to speed up or slow down depending on the backlog of flower that it has in the jars. The jars are then capped with enough pressure to activate the child lock—a child-protection mechanism is intrinsic in the cap and jar system, locking when the two are mated. Capped and locked jars then travel to another accumulation table, this one a diverter/accumulator from Arrowhead that feeds two Arrowhead conveyors that each feed one of the two Tronics labeling machines. One labeler acts as a master machine that takes the majority of volume. The second labeler is mostly there to accommodate spillover volume.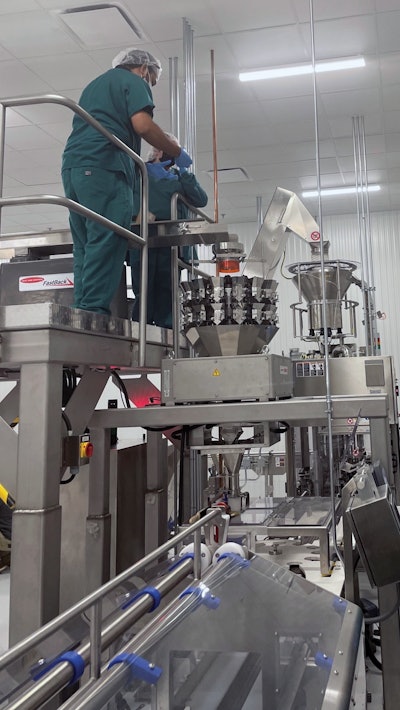 "From there, the two Tronics labelers feed another set of accumulation tables. These will just be used for operators to pull the jars off and to put them into secondary packaging, which is just a paperboard carton that'll then get sent to the dispensaries," Watters says. "It's actually quite clever what we do. Rather than having to have two sets of trays for loads of jars—one coming from the glass manufacturer, and one leaving the facility—we'll take the same trays that the jars actually came in and just transport them 10 feet over to the other accumulation table to use them on the way out. You've got a closed loop; you're not actually wasting any paperboard trays in the process."
This step largely ends the packaging operations, save for order fulfillment. No master cases need be built since cannabis distribution doesn't quite work the same as other, higher-volume CPG manufacturing. The facility doesn't distribute to its dispensaries in any format other than by individualized, hand-picked order. When the jars go to order fulfillment, the orders come in from the dispensaries, and they are picked and placed in what could be called rainbow orders, containing of all the varieties that the dispensary selected, and in the quantities they want.
Results and what's next
Watters has been keeping tabs on the RYTHM packaging line team, and he reports that the machinery has been running without a hitch since it was commissioned in October 2021.
"It definitely is a very good piece of equipment," he says. "I would say it's one of the best pieces of equipment we've purchased as a company, and it's really gearing us towards a true CPG company."
With that comes a lot of challenges. The company has had to start converting its workforce from operator-based to more technician-based. The facility has been working to make that transition by incorporating more troubleshooting and problem solving in its employee training.
"Typically, in my experience in supply chains, automation shows you clear opportunities from a quality and throughput point of view. Because all of a sudden, you have a piece of equipment that can outpace everything," Watters adds. "It highlights other areas that now need improvement that you might not have noticed before, or didn't need improvement before that speed was there. It also has shown us some opportunities in the supply chain in sizing, in the post-harvest equipment, everything in that respect."
---
---
Summarizes Strickland, "I believe this system has demonstrated that the right investment in the right equipment will deliver the expected results. "A" market vendors Like Spee-Dee and other PMMI member vendors can provide efficient solutions. This system has proven what the right amount of investment with the right vendors can achieve.." -PW
Companies in this article
Videos from Morrison Container Handling Solutions