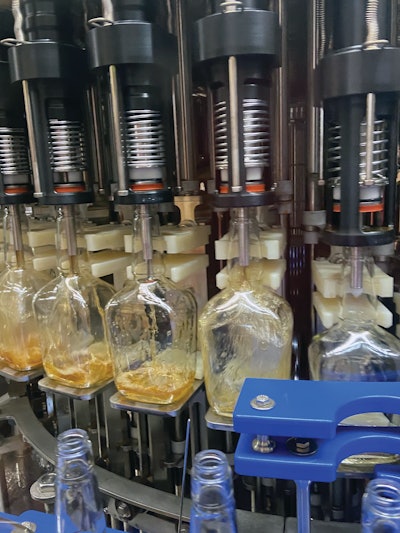 Maker's Mark is a small-batch bourbon whiskey produced in Loretto, Ky., by Chicago-based Beam Suntory. Line A at the Loretto facility has undergone some serious upgrading over the past two years. It began with the December 2019 installation of a new filler/capper, but subsequent additions and/or replacements included laser coding of bottles, inspection of laser codes by vision system, and a new case sealer for corrugated reshippers.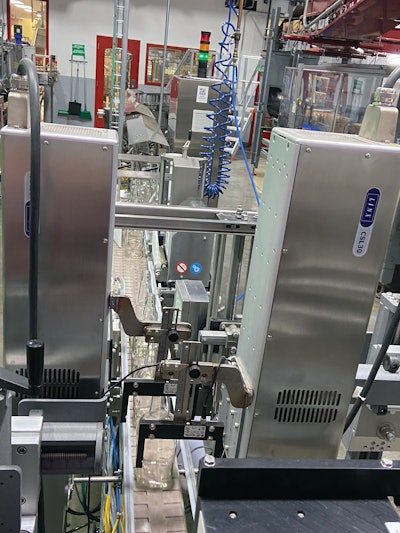 The filler/capper was supplied by Fogg Filler, says Mike Monroe, Maintenance Manager at Maker's Mark. "Actually," says Monroe, "Beam Suntory came to see similar Fogg equipment that had recently been installed for spirits at my previous place of employment. It was one of the systems they were evaluating as they sought to improve on quality requirements. The older filler/capper that had been running here in the Loretto facility did not have the kind of control they wanted, and Beam Suntory is big on quality control. By the time I arrived here at Maker's Mark, the decision had already been made to go forward with this Fogg filler/capper and it was in its early stages of installation. I served as site manager and helped with the commissioning."
Equipped with 42 filling nozzles and 14 capping stations, the Fogg system runs at about 180 bottles/min when 750-mL bottles are in production. Speed is somewhat limited, notes Monroe, because after filling and capping, the top of each glass bottle gets hand dipped into wax—a Maker's Mark calling card, if you will. "You can only dip so many bottles per minute, so throughput will always be somewhat constrained," he adds. So why not do away with hand dipping? "We see certain things as part of our heritage that we're not willing to compromise on," says Monroe. "Hand dipping in wax is one of them."
Two other sizes filled on the line are 700-mL and 1-L. Changeover from one size to another is easy, says Monroe, because it's tool-free and the change parts are color-coded.
One other key contribution by Fogg was the HEPA-filtered enclosure that surrounds not only the filler/capper but also the bottle rinser that was retained. "The absence of this kind of enclosure, which effectively prevents the intrusion of dust and other things you want to keep out, was another reason Beam Suntory wanted to replace the old filler," says Monroe. "Fogg also provided a feed screw drive to transfer the bottles from the rinser to the filler/capper. They did a really nice job of integrating the whole thing, and once again it brings a measurable element of quality control to the line."
The threaded closures are injection-molded of polypropylene and supplied by Berry Global. Once the closures have been torqued on, bottles enter a P.E. Labeller that applies a cold-glue paper label on the front and a pressure-sensitive label on the back. The same machine also wraps a tear tape between the neck finish and the cap. The end of this tape sticks out so that later, when it's time for the consumer to open the bottle, the tape can be easily pulled to make it easy to remove the cap from the bottle.
Coding and inspection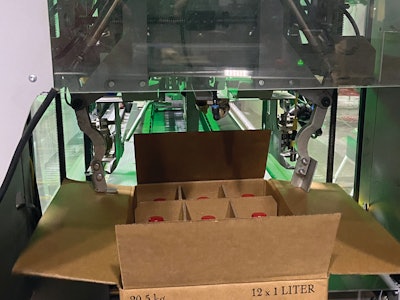 Two other significant equipment upgrades made to the line, upstream from the Fogg equipment, are in coding and inspection. After an uncaser removes bottles from reshippers and an orienter gets them single-filed and all facing the same way, an FT Vision system inspects the finish of each bottle to ensure there are no chips or defects. Then CSL30 laser coding equipment from Linx Printing Technologies puts date and lot code information on the front and back of each bottle.
"We've been getting away from inkjet," says Monroe. "With lasers you don't have the consumables or the MEK-based inks, which are frowned on from an environmental standpoint. Not to mention that lasers have come a long way and are now really good at printing at high speeds on glass."
Beam Suntory standardizes on a lot of equipment, notes Monroe, but in the case of the laser coders, the operations and management team at the Loretto plant selected Linx Model CSL30. "They've really worked out well," he adds.
When asked why coding on front and back are needed, Monroe says it gives Beam Suntory a better chance at detecting gray market and/or counterfeit activities in the global marketplace. Inspection of both these laser codes, notes Monroe, is done by a second FT Systems vision system.
The final equipment upgrade on Line A sits shortly after the drop packer that puts filled bottles back into their corrugated reshippers. It's a Model CS40-67G case sealer from Pearson Packaging. Maker's Mark specified that a Graco Invisipac HM25c melt-on-demand adhesive applicator be integrated into the Pearson machine. Pearson also integrated a separate adhesive applicator, a Dynatec Mini from ITW Dynatec. It gets used when customers want load-lock pallet adhesive applied to cases for the purpose of better stabilizing pallet loads by keeping cases from shifting during transportation and distribution. "When it came to this kind of customization, Pearson was really good to work with," says Monroe.

Companies in this article