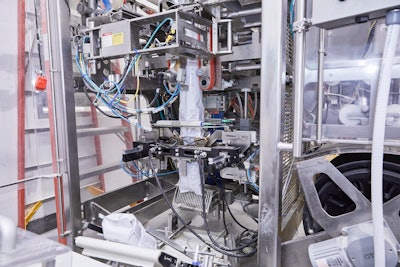 Image courtesy of Triangle Package Machinery
AbilityOne is a U.S. government program that employs more than 42,000 individuals who are blind or have significant disabilities. During the COVID-19 pandemic, many of the non-profits that work with the program saw exponential growth in demand, especially for personal protective equipment (PPE) and sanitizing products. There was also high demand on food banks during the pandemic, with an estimated one in six Americans facing hunger.
Transylvania Vocational Services (TVS), founded in 1967 to provide meaningful employment to people with disabilities, employs 209 people at its plant in Brevard, N.C. The company packages ready-to-eat foods and various powdered products and distributes them to food banks, military bases, and others in need throughout the world. Thanks to an AbilityOne contract with the U.S. Department of Agriculture (USDA), TVS needed to increase production of its instant non-fat dry milk to better serve the food banks.
---
| | |
| --- | --- |
| | Discover automation trends in food processing and packaging: Watch Automation World's three-part video series on robotics, remote access, and vFATs. |
---
To do this, TVS needed to replace its obsolete bagging system with something more efficient. "We needed additional packaging capacity to keep up with a growth in demand while trying to stay within an existing building footprint," says Steve Green, director of plant operations for TVS. "We were using intermittent motion pouch filling equipment that had become obsolete from a service and parts standpoint."
After considering several options, TVS turned to Triangle Package Machinery. TVS also needed to find a system with improved sanitation. As a government contractor of ready-to-eat foods, TVS needs to meet 3-A Sanitary Standards. The manufacturer chose Triangle's Model XYRJ vertical form/fill/seal (VFFS) bagger and an auger from Spee-Dee Packaging Machinery, both of which offer 3-A certification.
Capable of multiple package styles
Designed and introduced by Triangle in 2015, Model XYRJ can run a wide variety of bag styles, including three-sided seal, stand-up pouch, pillow, gusseted, flat bottom, and zippered bags. The bagger's easily rotatable sealing jaw allows packagers to run multiple package styles on the same machine. Additional benefits include ease of setup and maintenance, better product flow, improved sanitation, and better production.
---
---
The machine is designed to operate with milk powder in the air, and also for full washdown. For TVS, the fact that Triangle baggers include Rockwell Automation controls and servo motors was also beneficial.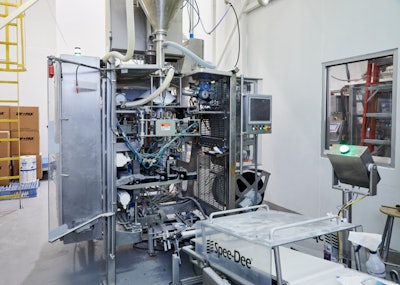 "Model XYRJ is built with a solid stainless-steel frame, equipped with Allen-Bradley PLCs, utilized continuous motion engineering for the desired throughput, and possessed the needed 3-A sanitary design rating," Green says.
The primary product packaged on the Triangle/Spee-Dee system at TVS is instant non-fat dry milk. The auger measures a 12.8 oz fill and dispenses it into the bagger, which forms a three-sided seal bag with integrated resealable zipper. The company runs three-sided seal, zippered bags at speeds up to 70 bags per minute, depending on the product.
Spee-Dee's 3A-certified sanitary auger filler is designed to package powdered infant formula, whey protein powder, nut-based protein powders, and other nutraceutical or pharmaceutical applications that require adherence to strict hygienic standards. It features a sloped hopper cover, an agitator seal design to prevent foreign material intrusion, quick disconnect hopper clamps, precise servo control of auger tooling, and no fasteners in the product zone, as well as a sloped drive head shroud and removable hopper gasket.
Production doubled
In addition to high sanitary standards, the new bagger/auger combination has helped TVS more than double its production. Within 60 days of commissioning the new Triangle XYRJ, the team at TVS was able to increase throughput of powdered milk from 20,000 lb/day to more than 50,000 lb/day per machine with lower scrap factors, enabling TVS to meet the increased demand. Production has increased from about 45 zipper bags per minute to 70 bags per minute, with improved overall equipment effectiveness (OEE).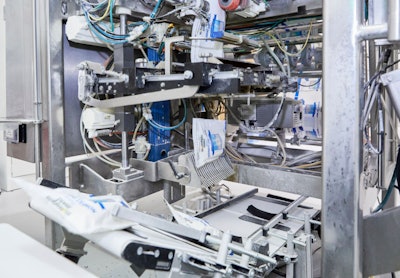 With a continued upsurge in business, TVS installed a second Model XYRJ VFFS bagger and Spee-Dee sanitary auger in late 2020. Today, both systems run milk powder, pancake mix, or a superfood powder blend, depending on production demands. TVS has purchased a third machine, which will be operational by Q1 of 2022. At that point, the company will be able to produce 150,000 lb/day of powdered milk.
"This capacity increase has meaningful impact in that the additional output alone provides close to a million incremental gallons of fluid milk per month, when reconstituted, for needy Americans seeking nutrition from food pantries," Green adds.
Companies in this article