Since 1979, Earth Animal has been setting new benchmarks for the pet industry. Their wholesome chews, treats, dog food, healing supplements, and remedies are made with pure, fresh, and sustainable ingredients. To help meet their high-quality requirements, Earth Animal's "Riverstone" facility in Westminster, Md., added a new Mettler-Toledo Safeline X33 x-ray inspection system while they were renovating and expanding.
"Our pet foods are made with real, whole food and natural ingredients—these introduce a foreign material risk. Things like pebbles and shell fragments are not uncommon. We are incredibly careful that no foreign bodies make their way into the final packaged product," says Kelly Raiser, General Manager and co-owner of Riverstone. "Our new X33 x-ray system helps us achieve that every single day."
A new study from PMMI Business Intelligence, "Trends and Drivers Impacting The Pet Food Industry," reveals North America is the top market for pet food, with an annual growth rate of 4.5% in the next five years.
See what key stakeholders in the pet food arena are saying about current trends in sustainability that are affecting pet food processors and packaging professionals.
Earth Animal's Riverstone facility primarily produces Earth Animal's Dr. Bob Goldstein's Wisdom® brand of dog food. It's packaged in four-sided, gusseted stand-up bags made of Braskem's  sugarcane-based I'm green™ Polyethylene (PE) biopolymer. Bags weigh 1, 3, or 10 lb.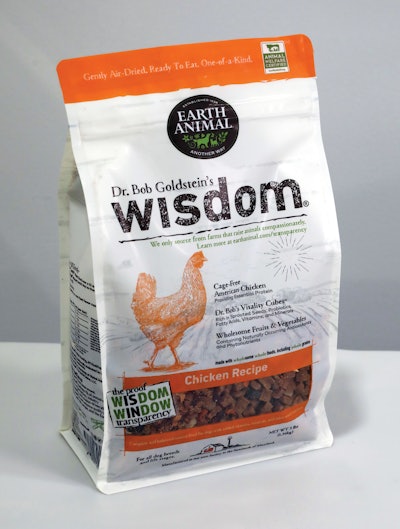 "Earth Animal has always been passionate about how, why, and what we do, and for us, we have felt that sustainability is a major part of our DNA," says Stephanie Volo, VP of Marketing and Sustainability for Earth Animal. "Incorporating the I'm green PE biopolymer material into our Wisdom Dog Food packaging was a natural fit given each company's commitment to sustainability. We couldn't be happier with the result."
Riverstone also produces pet treats in conventional stand-up pouches weighing between 4 and 7 oz. A Hytrol movable roller conveying system allows either of Riverstone's two primary packaging lines to feed into the new inline X33 x-ray system at a rate of 18 to 20 bags/min. Packages that don't pass inspection are automatically removed from the line with a pneumatic reject device, also from Mettler-Toledo.
"We added x-ray inspection while renovating and expanding our facility," says Nick Stalder, Production Manager at Riverstone. "Our sales rep, Dick DeNenno at Reliant Packaging Machinery, encouraged us to go with x-ray inspection instead of metal detection for our application. In addition to detecting metal, our x-ray system can identify stones and shells and other foreign bodies you wouldn't want your pet to eat. The X33 provides us with the confidence that our products are free from foreign materials."
'Particularly challenging'
"Our dog food is particularly challenging for inspection equipment because it's like trail mix, containing dried meat, fruits, veggies, and our proprietary Vitality Cube™, which contains vitamins, mineral, grains, dried fruit, and sprouted seeds. There are so many little pieces that have different densities and moistures in the same mix," says Claire Farrell, Quality Assurance – Quality Control Manager at Riverstone. "The X33 is able to adjust for all those tiny differences. You can actually see each of the ingredients on the screen as it runs them. Its sensitivity is quite impressive."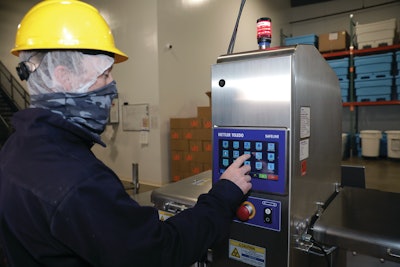 Mettler Toledo's X33 x-ray system achieves the same outstanding detection sensitivity as the previous-generation SmartChek and AdvanChek models but uses a 20-watt generator to consume one-fifth of the power. "We love that this system is so energy efficient," says Raiser. "Sustainability is a huge part of every decision we make here at Earth Animal. We think about sustainability in every aspect of our products—from our Global Animal Partnership (GAP)-rated meats and upcycled veggies to our packaging and more. It's important that our x-ray system fits into our environmental pledge."
"Sanitation is also something that we never want to skimp on. That's why we look for systems that are engineered for dry cleaning and easy maintenance," says Carl Hammond, Facility Engineer at Riverstone. "Because we are only running finished packaged goods, the X33 only requires a dry clean and then a sanitizer on the conveyor. Its sanitation-focused design improves equipment hygiene while reducing downtime to support our overall operating efficiency."
Riverstone changes over their X33 to handle a new product or package multiple times a day. It takes only five minutes to load the new settings, calibrate, run validation tests, and start running. Test standards are sent through at the beginning and end of every run, as well as every hour, to ensure accuracy. "We have never had a test standard fail to be rejected—the system works perfectly," says Farrell.
"Overall, this is an extremely solid piece of equipment. We've had 100 percent uptime with our X33 so far," says Stalder "We haven't needed to talk to Mettler-Toledo's customer service or use our maintenance plan because it's been so reliable. Even installation was just a matter of plugging it in and setting up product programs and standards."
"Our X33 x-ray system has already paid for itself by delivering information about our raw ingredients. We were able to set benchmarks and request refinements from our suppliers," says Raiser. "The biggest thing for us as a company is knowing that our final product is up to our high food safety and quality principles. After our experiences with the X33, I never want to run another packaging line without this technology. The level of scrutiny it provides us is incredible."

Companies in this article