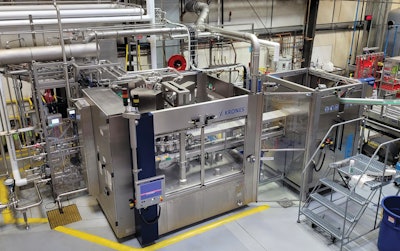 "What we installed was enough to dip our toes in the water," is a common refrain—but it wasn't enough to keep up with how quickly the demand for cans grew.
What to do in such circumstances? At both Seattle-based Elysian Brewing Co. and at Lake Travis Brewing in Texas, the answer was to install a Krones Craftmate C filler. A 24-valve volumetric filler combined with a 4-head seamer from Ferrum, the Craftmate is specifically designed for the low-output range of 1,200 cans/hr.
Elysian's CEO Joe Bisacca says that a few years ago the firm had just invested in a new bottling line capable of 400 bottles/min when all of a sudden, as he puts it, "Canning sort of flipped the switch. It got to where you couldn't get access to stadiums because they weren't taking glass bottles anymore. And they wanted a 19.2-oz format, not the traditional 12-oz bottle. So we started with an in-line intermittent-motion canning system, but before long we were limping along with it and not nearly reaching the volumes we needed to reach. With the Craftmate, on the other hand, I can not only reach the necessary volumes, I can do multiple SKUs, like 12-oz cans or 12-oz skinnies as well as 16- and 19.2-oz cans."
Feeding the Krones/Ferrum equipment is a used depalletizer and a feed chute conveyor that takes cans down to the filler. Mounted on this conveyor is a Videojet ink-jet coder that puts lot and date code on can bottoms. As for graphics, the vast majority of the cans filled at Elysian come preprinted. But for a few limited-volume beers, cans are decorated with shrink sleeve labels by the can supplier.
See how this customized shrink sleeve canning operation produces a range of unique, artistic labels during each run of craft beer.
A laser coder is providing a craft beer start-up in Scotland with an enhanced coding and marking solution to support its growth.
One other new piece of equipment on the line is a Filtec fill level inspector. Secondary packaging on a used wraparound cartoner that was installed along with the filler/seamer limits the speeds at which Elysian is able to run its new can filler, but typically the 12-oz cans are filled at about 200 to 225/min. "We're now looking at an upgrade in cartoning that will help us boost throughput," says Bisacca.
Texan brewer Lake Travis Brewing Co. had an experience very similar to Elysian's when it "dipped its toes" into canning. "Our first stab at canning had us limited to 40 cans/min," says General Manager Max Schleder. About a year after installing a Krones Craftmate solution very similar to the one at Elysian, speeds of 300/min are what the brewery is now seeing.
Also significant parts of the installation at Lake Travis are the machines upstream and downstream from filler/seamer. Upstream it's an automated depalletizing and twist-rinse system from Ska Fabricating. Downstream from the filler, shortly after an accumulation table, there's a split in the line and then two handle applicators from American Canning. And for date coding, it's done on can bottoms just after the twist-rinse by an ink-jet coder from Videojet.
Notable brands running on the new line are Pearl and Lone Star Rio Jade, both owned by San Antonio-based Pabst, which for some time now has outsourced all of its beer making.

Companies in this article