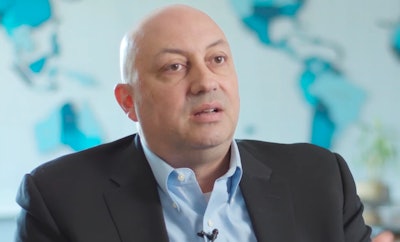 At its PACK EXPO Showroom, Serac is featuring videos of a number of its liquid filling and capping machines and blow-molding equipment. Also a highlight is its BluStream® electron beam cap sterilization system, which was showcased at last year's PACK EXPO Las Vegas.
The BluStream® system is a low-energy electron beam treatment system that can be delivered at room temperature. It's designed for use in non-refrigerated beverage and 90-day ESL bottling lines. It's a dry physical treatment. To sterilize, the system dispenses a beam of electrons onto the surface of the product. Explains Serac, electrons quickly destroy microorganisms by breaking their DNA chains.

The technology is capable of guaranteeing a bacteriological reduction of 6 log in 1 second, without using any chemical product. It allows for decontamination of 6 log inside the lid and 3 log outside the lid, with a throughput of up to 900 units/min. The module can be integrated into all aseptic ESL bottling lines, and can be used by any manufacturer looking to better control cap sterilization, as well as promote environmentally responsible production methods. In a pre-PACK EXPO Connects interview, Dino Chece, President & CEO of Serac, shared his thoughts on the role of OEMs in advancing sustainable solutions for their customers: "Sometimes the technology drives markets. So we think it's very important that the OEMs play a role in sustainable packaging, specifically when it comes to using environmental friendly technologies to produce the products that the customers want with the smallest available footprint for the environment."

Chece also spoke on Serac's Industry 4.0 solution, an easy-to-use HMI, which he said will soon be launched. "Honestly speaking, I saw the newest version a few days ago, and I would say an eight year old can handle our machines, it's that intuitive and easy," he remarked.
Chece added that with this solution, Serac is bringing Industry 4.0 back to the basics. "Industry 4.0 was actually created as a connectivity tool between the machines, as a data collection tool, as a tool that customers can use to communicate and operate the machines very easily," he said. "It has morphed into a virtual 3D experience for everybody, but this is not really what our customers want. They want robust production systems that are very easy to operate and that they can get the necessary information out of. And we want to bring it back to that."
According to Serac's website, its new FCS X automation architecture decentralizes the intelligence of the machine. With the new FCS X automation architecture, Serac has developed a new HMI with the support of Orange and its customers. Says Serac CTO, Theirry Deau, "When you see a line on the customer's site, we have different machines from different suppliers, and the HMI is always different. But one interface that everybody knows is the interface from your smartphone and also a website that everybody knows. So it is also important to have this kind of approach, a web approach."
The second part of Serac's new solution is the new Millesime. "So it is more the mechanical part, but it is really linked to FCS X," says Deau. "We have to converge the two projects, the new mechanical part and the new automation part. At the end we will have a very interesting machine for tomorrow's market."
Add Serac to your MyConnects Planner, click here.
Companies in this article