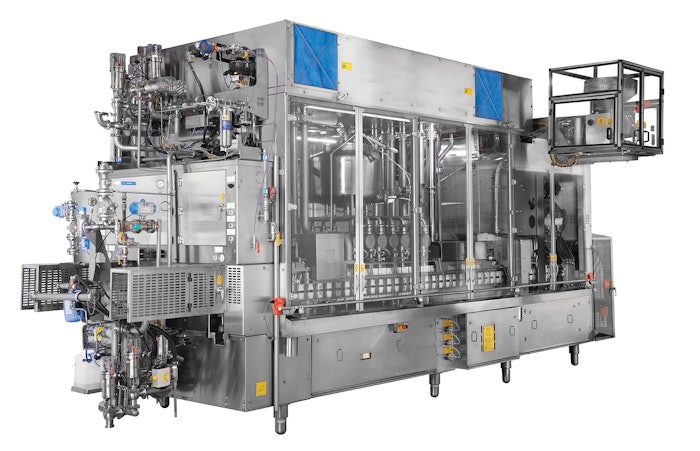 This Evergreen Packaging filler features PLC controls and servo technology from Rockwell Automation. Designed for the dairy, juice, and liquid foods markets, the EH-84 can handle fill volumes of 40 oz on up to  64 oz and 2 L at speeds to 8,400 cartons per hour.
According to Evergreen's Richard Szyperski, Technical Product Manager & Equipment Sales Specialist, the firm's EQ-70 gable top machine for quarts and 1-L cartons has taken advantage of servo technology for some time. The EH-84, he says, brings servo technology to the popular half-gallon format and represents a culmination of learnings gleaned from the development of previous machines.
"Our customer base was looking for this kind of an upgrade from mechanical to servo," says Szyperski. "Rockwell was an obvious choice when it came to a controls platform, not only because that's what we've used in the past but also because it's what our customers are familiar with."
Motors and drives selected by Evergreen are the Kinetix VPL low-inertia servo motors and Kinetix 5700 servo drives. The communications protocol used to connect the GuardLogix L83-ES PLC and the servo drives is Ethernet IP.
The linear-style Evergreen filler is a two-lane single-index machine with seven volumetric filling valves for each lane. Actuations executed by the servos include such things as filling and the movement of the mandrels on which the flat blanks are erected and formed into gable top cartons. Szyperski is especially pleased by the improvement in accuracy gained where filling is concerned. "Filling controlled by mechanically linked pumps is just not as accurate as servo-controlled filling," he points out. "And by using servos on the mandrels we gain considerably in control over our positioning capabilities. Plus we can now spin the mandrels without having to cycle the machine. This brings advantages in cleaning and sanitizing." 
PACK EXPO Connects – November 9-13. Now more than ever, packaging and processing professionals need solutions for a rapidly changing world, and the power of the PACK EXPO brand delivers the decision makers you need to reach. Attendee registration is open now. 
Among the first to install the EH-84 is Orrville, OH-based SmithFoods, a leading producer of milk and plant-based beverages, whose VP of Operations Todd DeRoo says the business benefits of servo control are significant. "We can adjust to virtually an infinite number of sizes very quickly, and doing it probably takes 50% less time than on comparable machines that are not servo-controlled," says DeRoo. "And in addition, everything is more accurate. We did wonder at first how the operators would respond to the newer technology, but after running the machine for an hour or two they're reluctant to be assigned to the old lines."
 Go here for a PACK EXPO Connects demo.
Companies in this article