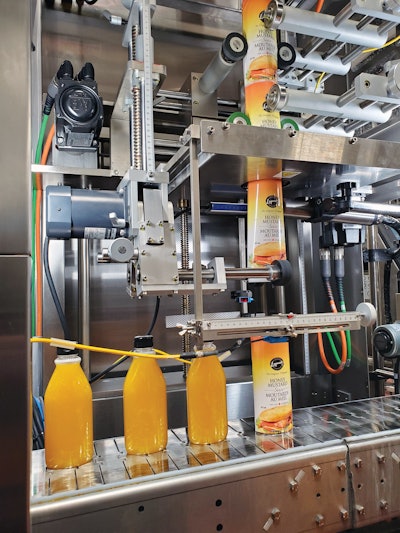 Located just north of Toronto in North York, ON, Lynch Foods is a family-owned food manufacturer supplying specialty food products to both foodservice and retail accounts. Their Customer Service Model is to provide specialty batches in short runs on short notice. Flexibility and quick change over is the Operations priority.
The firm recently decommissioned a liquid filling line whose packaging equipment had clearly outlived its useful life and replaced it with a flexible new line that's notable for at least four reasons:
• it handles no less than eight different-sized containers ranging from 250-mL to 1-L
• containers filled are glass, PET, or HDPE
• both continuous-thread (CT) and lug closures are applied
• lug closures come in two sizes and CT closures come in six sizes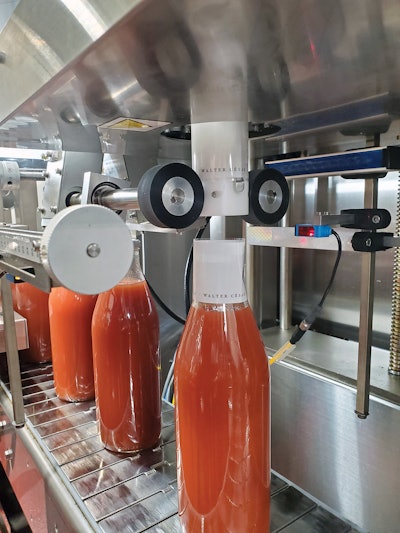 While depalletizing at the front end and case packing at the back end are still handled manually, automated solutions for both these tasks are currently being evaluated. Meanwhile, at the heart of the line is a monoblock filler/capper consisting of a 14-head Elmar volumetric piston filler and an Arol 6-station rotary capper.
"According to Elmar and Arol, there may not be another manufacturer in the country with that kind of variety in container size, container material, and cap style," says James Darcy, Maintenance Manager at Lynch Foods. When asked why such versatility was needed on the line, Darcy says it was driven by the firm's thriving contract manufacturing and packaging business. Responding to customer requirements, no matter how much one varies from another, is a fundamental requirement under such circumstances.
The products being filled on the line are also quite varied, ranging from a Caesar Mix to Aioli Dipping Sauces to corn syrups to chocolate syrup. Filling is done at temperatures ranging from 100 to 175ºF. "The Elmar Model RPE-714/6 RH is an outstanding piece of equipment," notes Darcy. "We added in a Mokon water heater supplied by Elmar to keep the filler bowl at the required filling temperature," he adds.
All products filled on the line are shelf stable. The ones getting lug caps are all hot-filled glass.
The first piece of equipment on the line is a single-filing conveyor system supplied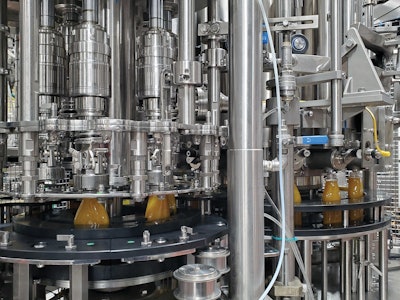 by Barlow Manufacturing that feeds a Bevco bottle rinser that was kept from the old line. Bottles are then conveyed into the infeed screw of the Elmar filler.
Filled bottles are transferred by starwheel directly into the Arol capper, which is distinguished by a number of features to help keep changeover time to a minimum. Perhaps the most important of these is the fact that it incorporates two separate cap sorting/feeding systems. One is for CT and the other for lug caps. "This eliminates any need for Lynch to remove one and install the other," says Steve Locker, VP General Manager at Arol-North America. "It's just a matter of changing a starwheel and the guides on the pick-and-place device that is responsible for putting individual caps into the capping heads. Changeover can be done in minutes with no tools, and it's done by operators, not by a highly skilled technician."
'Cap-in-head' capper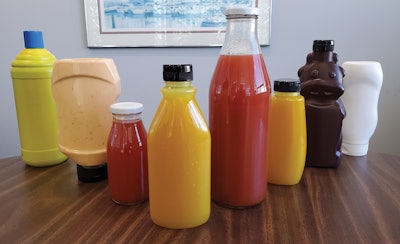 Locker describes the Arol machine as a "cap-in-head" capper. "With some cappers the cap is picked up by the bottle as it is conveyed beneath the capping chute," explains Locker. "But in our case the caps are sorted, fed, and then presented to each head, and it's the head that brings the cap to the bottle."
For C-T caps the capper uses a technology called independent spindle-speed control that makes it possible to change at the HMI the spin rate of the capping spindles. This means Lynch does not have to change gears or belts or other mechanical parts when going from a two-thread to a three-thread cap, for instance. Once again, it's all about streamlining changeover.
Locker also notes that supplying a single machine designed to apply both CT and lug closures was not historically all that common until about 10 years ago or so. It was around that time that contract packagers began to assume such a prominent place in the food manufacturing and packaging scene. When Arol recognized this trend, managers made sure that cappers like the one just installed at Lynch Foods became a regular part of Arol's machine-building business.
One important piece of ancillary equipment that's essential to applying a lug-style cap is a steam injection system that softens and sanitizes the plastisol lining inside the metal closure. Darcy says the system installed at Lynch Foods is a steam system that includes 5-micron culinary filters, thermostatic traps, and separators to keep the low-pressure steam as clean and dry as possible before it arrives at the steam injection device and chute assembly.
Just downstream from the monoblock filler/capper is an Enercon induction sealing system Superseal Touch 500 Model LM5609-97. When lug closures are being applied, this device is turned off and bottles simply convey straight through it. But all CT closures come with an inner liner that is induction-sealed to the land of the neck finish.
Labeling versatility, too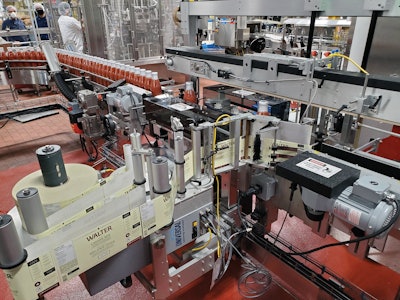 Next is labeling, and once again the firm's approach to this aspect of the new line was shaped by the need for versatility that comes with being a contract packager. Rather than having one labeler, the firm installed both a shrink-sleeve and a pressure-sensitive labeler. First comes the Tripack shrink-sleeve machine. The Model MSA-245 features Rockwell servo drive technology as well as Rockwell's touch screen HMI for recipe-driven size changeovers.
"We had a Tripack MSA 180 on the line we replaced, and we were very happy with the way it ran," says Darcy. "When we saw at PACK EXPO Las Vegas that the newer model had an automatic film feed with two rolls on the film stand that allows for more efficient roll changes, we decided to go with that. It was exactly what we were looking for, and in our experience Tripack builds a highly reliable piece of equipment." Worth noting is that when a production run calls for pressure-sensitive as opposed to full-body shrink sleeve labels, the Tripack system is still pressed into service because it is used for the application of a neck label/tamper evidence band prior to the pressure-sensitive label being applied.
As for the automatic film feed, Darcy says that when one roll of labels is nearly depleted, a SICK sensor detects this condition and causes an input to go to the alarm light on the top of the machine that turns it to red. This alerts the operator to prepare for a label roll change. "In the past, without this feature, we wasted a fair bit of time stopping the machine for 10 minutes or so to put a new roll of labels in place," says Darcy. "Now we have it ready to go and we get the new roll on in about 60 seconds.
"We also added some extra lighting," he continues, "to give it that show machine look. The other component that's involved here is Inkjet, Inc.'s DuraCode continuous ink-jet printer, applies the date code onto the sleeve as the film travels down the mandrel before it is applied onto the container."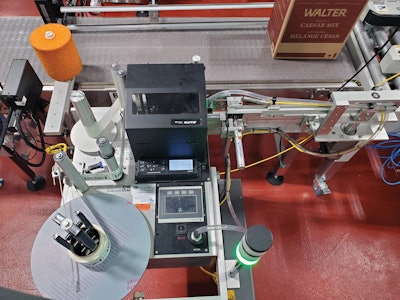 As for the pressure-sensitive labeler, the Universal Labeling Systems Model CP 2000 front-and-back labeler features two digitally controlled stepper drive label applicators and synchronous overhead bottle hold down. According to Darcy, changeover to a new bottle size is a simple matter of removing the wrap belt system and moving both peeler plates into position with some small adjustments. He notes that this machine also incorporates a duraCode ink-jet printer.
Manual case packing comes next, and then the corrugated cases pass through a Universal Labeling Systems UPA-ll thermal-transfer print-and-apply labeler equipped with a Sato print head. Darcy notes that when circumstances require it, sometimes the print engine is turned off and pre-printed labels are applied. After a few delays caused by the uncertainties of the pandemic-related lockdown, the line is now running as routinely as Darcy and company had hoped and planned. He gives one final nod to Industrial Controls Integration. Their experts worked closely with the major OEMs represented on the new line on the all-important element of systems integration.
Companies in this article