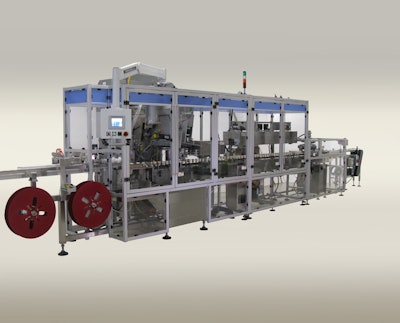 The South Deerfield, MA, firm partnered with PDC International Co. to develop a PDC 90C-E machine that could apply a sleeve that underlaps and overlaps the candle. Also necessary was a proprietary handling system that addresses a few unique challenges, including manipulation of the wicks. It was also necessary that the candles be placed on pedestals in the PDC 90C-E machine to achieve sleeve underlap.
First, the machine flattens down the candle wicks with a top roller. The candles are then positioned horizontally, and a single top timing screw transfers them into O-ring belts that time them onto magnetic fixtures mounted on a servo-controlled conveyor. Candles are held in position by elevated magnetic fixtures, which grasp the metal base of the wick, allowing the sleeve to underlap the candles. Clear shrink sleeves are applied at 225 parts/min without stopping the product or the sleeving process. The wick is then pressed down a second time by a moving tamping device before the candle passes through PDC's KRC 24-72-54 electric dual-zone hot air shrink tunnel. The shrink tunnel directs heat in a focused manner to securely conform the sleeves to the candle shape. The result is that the sleeve both underlaps and the bottom of the candle and overlaps at the top.
PDC adds that the 90C-E machine includes a Rockwell CompactLogix PLC, NEMA-4 Electrical Enclosures, and a Servo Feed Drive.
Companies in this article