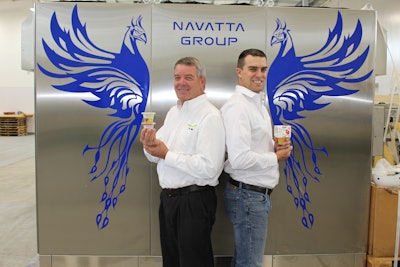 Determined, creative, and classy: These are the best adjectives to describe the response by Sanger, CA-based Initiative Foods following a devastating fire that leveled its baby food business on July 24, 2016. At the time of the fire—cause unknown—Initiative was a thriving, 14-year-old enterprise producing up to 300,000 jars and pouches per day of organic baby food products for co-manufacturing/co-packaging and private-label customers. The fire destroyed 95% of Initiative's buildings, including 100% of its 200,000-sq-ft plant and all of the equipment inside, an entire warehouse of finished goods from its glass jar line, and most of its offices. Miraculously, no one was hurt.
At the time of the fire, founder and President John Ypma was on the other side of the country. But as his son, Initiative Foods VP of Operations James Ypma, recalls, by the time his father arrived back in Sanger later that day, he had already decided to rebuild the business.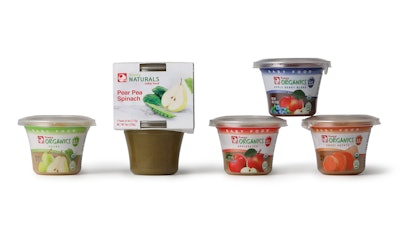 "By the time he got home, it was very clear by the way he was acting that he wasn't done," says James Ypma. "I believe he was very, very proud of what the company had achieved in the previous 14 years, and he felt the opportunity to serve the market was still there. He wanted another shot, and he wanted to do it with a new building and new equipment."
In dealing with its staff of 150 people, now literally out of work overnight, along with its customers, who had just as unexpectedly lost their product supplier, Initiative showed transparency and integrity. "In a press conference the next morning, we gathered all the employees for a meeting in front of the burn site, and he [John Ypma] noted that we were going to go through this trial together, so he would take care of them and our customers," says James Ypma. This was a promise he kept.
When mapping out the new business, John Ypma seized upon an opportunity the company had just begun exploring before the fire hit: a switch from glass jars—formerly its bread and butter—to plastic containers, which involved the design of a custom package, along with equipment engineered to handle the new container.
The road from devastation to a new, state-of-the-art plant involved collaboration and support from the community, customers, other co-man/co-pack companies, and equipment and packaging suppliers, as well as an abundance of resolve and hard work by its staff.
Entrepreneur sees potential in organic baby food
Initiative Foods was formed in 2002, when John Ypma bought a former 200,000-sq-ft baby food plant that was no longer in use in Sanger. At that point in his career, John Ypma was working for Gerber and saw the potential to strike out on his own with a private-label business providing organic baby food offerings—a niche category at the time. Sanger provided a perfect site for sourcing ingredients. Located in California's Central Valley, it offers easy access to crops such as squash, pears, sweet potatoes, carrots, and other fruits and vegetables. Washington apples are also easily sourced.
"It was very easy to get high-grade, fresh products to process, as opposed to using a purée or an IQF [individually quick frozen] ingredient," says James Ypma. "So we were able to bring a lot of these advantages to the marketplace."
When John Ypma began the business, Initiative packaged products in glass jars. In 2011, it began offering flexible pouches as well. At the time of the fire, it was producing 150,000 units per day of glass jars over one shift and 150,000 units of flexible pouches over two shifts. It had also just started dabbling in plastic containers.
A disaster, but not one without miracles
As James Ypma shares, the fire that destroyed most of Initiative's business could have been a lot worse. It began around 2:35 a.m. on a Sunday morning, just minutes after the employees had left the facility. In fact, it was first reported by some employees who had stopped at a nearby gas station and saw the blaze. James Ypma says he got the call that the building was on fire at 2:45 that morning. The only person on-site at the time was a security guard, who escaped unscathed.
Seventy-five first responders battled the six-alarm fire, which ultimately was the largest in Sanger's history. But luckily, despite the fear that the fire would spread to nearby buildings, firefighters were able to contain it. Another miracle was that some of the hazardous equipment and materials inside the plant didn't ignite. "We had propane tanks, we had a diesel tank, we had all sorts of typical plant items that become hazardous in that situation, but none of them were affected," says James Ypma.
Following the fire, the community rallied around Initiative and its employees. The day after the fire, John Ypma's wife, Jan, put out the word via local radio that Initiative would be holding a reverse job fair at its off-site warehouse. Forty companies signed on, ultimately hiring a number of Initiative employees on either a full- or part-time basis. In addition, a GoFundMe page set up by John Ypma's daughters, Carolyn and Meredith, to help employees financially raised $60,000. "It was just a few weeks before school started, so it was a tough time for everyone," says James Ypma. "We were able to give each family around $600 for school supplies and general use while they got going on their new jobs."
For its customers, Initiative connected them with co-packers that were able to deliver baby food to them within a month. "The main focus was to keep the customers' shelves full, because they had just lost their source of baby food at the time. We were in the best position to help them do that, since we had the formulas, we knew the process, and we had the relationships with some of the co-packers already. So, the goal was to keep them fulfilled with the hope—the uncontracted hope—that when we got back into business they would remember that and look to us as a partner again. Most have, but some have been really happy with their [new] situation, and they've stayed. With respect, our goal is to try to win those people back and to keep those who have come back satisfied."
The road to rebirth
The first step in rebuilding the business was to find a site for a new plant. According to James Ypma, Initiative looked at sites in Nevada and around California, but "nothing felt quite right." The solution, it appeared, was right in front of them: From November 2016 through May 2017, they set about converting their off-site warehouse, which was not involved in the fire, into a very small food manufacturing plant. Meanwhile, the company began construction of a new 28,500-sq-ft, state-of-the-art facility in the same industrial park in which the warehouse is located, engineering it from the ground up specifically to handle food processing.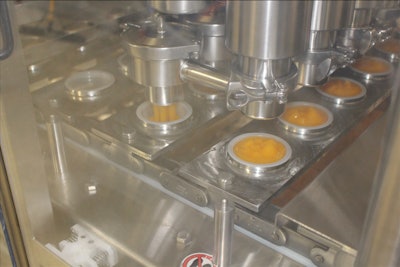 With limited capital to invest in new equipment, Initiative faced a packaging production choice: to continue with glass packaging or try something new. Before the fire, John Ypma had seen the market moving more toward plastic, with jar sales beginning to shrink. Initiative salespeople were also reporting a growing demand from their customers to have a plastic container that could complement their flexible pouch packaging—"especially as more of the grocery chains were looking to do online sales, and more consumers were looking for on-the-go solutions," says James Ypma.
In 2016, Initiative worked on a pilot project with one of its customers, providing them with plastic cups filled by Tree Top. "After the fire, the customer said, 'Hey, we believe in you guys, we fully support you. If you want to do this [switch to plastic cups], we'll do it with you,'" relates James Ypma. "And so we had a contract to make baby food in cups. That became our motivation to retrofit the warehouse."
The first piece of packaging equipment purchased was a Dosomat 2.2 rotary cup filling and sealing machine from German supplier Waldner. The machine can fill a range of cup sizes in both round and rectangular shapes at speeds to 70/min. The equipment is used primarily for Initiative's contract packaging customers. While James Ypma says that although the machine is low speed, "it is flexible and smooth."
To support the filler, the line also includes an EZ-150SL mandrel-style shrink-sleeve applicator from Axon Corp., a product brand of ProMach, to apply labels to the cups after filling; a ThermoPoint shrink-sleeve steam tunnel, also from Axon, that shrinks the labels in less than 1 sec, therefore avoiding any effects of heat on the filled product; an in-line Safeline Powerphase Plus metal detector from Mettler Toledo; and a high-speed overcapper from AROL Closure Systems. All of the coding and marking equipment in the plant is supplied by Markem-Imaje.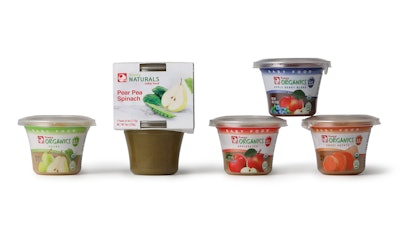 The processing equipment was provided by Parma, Italy-based Navatta Group, a company Initiative had previously worked with. Their contribution included a "starter kitchen" comprising four kettles that can handle fresh, IQF, and puréed products. According to James Ypma, the system is much more automated than the equipment used in Initiative's previous plant. Navatta also supplied a kitchen heat exchanger as well as a spiral pasteurizer for hot-fill products. In recognition of Initiative's "rising from the ashes," Navatta added a special touch to the equipment it supplied to them: a large phoenix emblem prominently painted on a number of the machines.
For about a year, the Waldner cup-filling line was the only packaging line at the facility. In February 2018, Initiative purchased a used filling line for flexible pouches along with a kitchen heat exchanger from a Tree Top plant in Oregon. The machine is a CHP 2H dual-head rotary filler supplied by Gualapack that fills Cheerpack™ spouted pouches for baby foods at speeds to 80 pouches/min. Currently Initiative is running the line consistently five to six days a week for several of its customers.
Also in 2018—on Aug. 9, 2018, to be exact—Initiative filled the first plastic cup and lid custom-engineered specifically for its private-label customers. The cup was the result of a year's worth of R&D and collaboration between John Ypma and TricorBraun. The timing of the cup's debut could not have been better—not long after it was launched, the co-packer that had been supplying Initiative's former customers with baby food in glass jars exited the business, enhancing the need for Initiative's services.
Building for maximum capacity
At the time of Contract Packaging's visit to Initiative Foods in September 2019, the company was finishing construction of the new plant and installing the equipment, and was on schedule to begin commercial production in January 2020.
The centerpiece of the facility will be a new high-speed, high-volume in-line cup filler, the 8400-S from Bosch Osgood. Initiative first saw the equipment, which was originally designed to fill yogurt, at PACK EXPO Las Vegas 2017 at the Bosch booth. After visiting the Bosch Osgood facility in Florida not long after, Initiative purchased the machine, which was then retrofitted to handle their needs.
James Ypma says the filler's linear design, which runs eight cups across, is ideal for Initiative's products. "For baby food, you need to have very little headspace in the package so that the product gets properly cooked either in the pasteurizer or during retort," he explains. "We found that as we approached higher speeds with our rotary machine, the product would slosh a bit. Then you run the risk of getting product onto the sealing ring where the package has to be hermetically sealed. So with the linear machine, because the cups move forward, the product doesn't do that, so you can achieve higher speeds without sloshing or compromising your seal."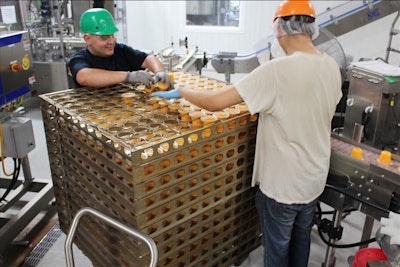 The machine was installed in Initiative's retrofitted warehouse in July 2018. A month earlier, the company installed a retort unit from Spanish manufacturer Surdry, supplied by Stock America. Surdry custom-built the retort baskets and trays to accommodate the new cup, while Italian company Futura Robotica, in cooperation with U.S.-based PPi Technologies Group designed a system using Kawasaki robots to automatically load and unload the racks. (Two more Surdry retorts will be installed in the new plant as well.) With this equipment in place, Initiative was ready to start filling its custom cups in early August 2018. Fittingly, the first customer for the plastic cup was also one of Initiative's first customers for its glass jars in the early 2000s.
Until the new plant is ready for operation, Initiative has been running the Bosch Osgood filler at its retrofitted warehouse. While the 280-cup/min in-line filler will give the company a significant boost in output when installed in the new plant, at presstime it was only producing 100/min, due to the capacity constraints of the warehouse and the supporting equipment. "The new plant is designed to do more than 500 units a minute, so we'll be able to run the Bosch at its full speed and still have extra capacity for future expansion," says James Ypma.
The filler is running 4- and 4.5-oz cups, but one of the requirements for the machine was flexibility to accommodate different cup sizes. According to James Ypma, in the past, Initiative has filled 2.5-oz cups and has had requests for cups up to 7.5 oz.
Flexibility is also the theme for a corrugated sleever and case packer from Futura Robotica that will be used in the new facility. It has been engineered to accommodate new case configurations designed in-house by Initiative to address the needs of online retailing and Retail Ready Packaging. "The cases can be shipped to the end user or to the customer, and they are designed in a way that they can easily be put on a store shelf, reducing the time it takes for retailers to stock them, while still being presentable," explains James Ypma.
He adds that Initiative worked with TricorBraun to do a series of tests, including crush, drop, and weight tests, on the plastic cups to ensure they could withstand the rigors of e-commerce shipping. The corrugated cases were designed to the same standards. Product formats include singles, two-pack sleeved product, 12 packs, and occasionally, 20 packs.
Well-deserved success
Over the last couple of years, whether co-manufacturing and co-packing or producing for private label, Initiative Foods has become known for its organization's flexibility, "particularly because of the fire," says James Ypma. "It really forces you to learn new skills and be creative."
He adds, "Very large, traditional food manufacturers have struggled to adapt to the changes occurring in the marketplace in terms of what consumers want. They want fresher foods, they want organics, they want unique recipes, they want different packaging. Since we're small, we can be agile. So, as we've rebuilt, we've been able to expand outside of baby food and more into contract manufacturing, to do other types of products and work with other types of customers."
The company offers 50 standard recipes and has also started working with unique ingredients such as coconut, quinoa, and other health foods. At the time of CP's visit, it had also just run a non-baby food, chocolate-based product. Having worked in the past with one CPG from the time it was very small until it became a successful, mainstream brand, Initiative is committed to helping start-up companies commercialize their products with a new R&D and lab staff. "We don't want to discount those new, innovative ideas that haven't had their opportunity yet," says James Ypma. "So we try to offer space for those innovations in our facility as well."
And, the company is well positioned to serve these start-ups, as well as large, established customers. When the new plant becomes operational, it will produce upwards of 50 million units a year, with the potential to do over 100 million units annually.
It's a remarkable and well-deserved rebirth for this company, which proved its grit and integrity during its three-year ascent from the ashes.
Companies in this article