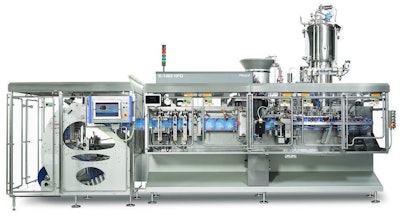 While many agree that flexible pouches deliver a number of sustainability advantages, including a lighter-weight, less material, and a smaller physical footprint than rigid containers, the one drawback—especially where consumers are concerned—is its non-recyclability. At PACK EXPO Las Vegas, Mespack, a member of the Duravant family, and Dow announced a partnership to develop and commercialize recyclable, monomaterial film pouches. The solution was on display at Mespack's booth, C-4118.
Under the partnership, Dow will showcase Mespack's horizontal form/fill/seal machine at its Freeport, TX, location of Pack Studios, where the line will help accelerate and support projects for recyclable stand-up pouches with customers and brand owners in North America. Says Mespack, with 86 billion stand-up pouches produced every year, this new recyclable flexible packaging solution is an on-trend, customer-driven innovation that will play a key role in the circular economy. The technology map for the recyclable pouch covers applications that include baby food, condiments, detergents, shampoos, body lotions, and more.
"It is important to Mespack that we support our customers in the adoption of recyclable, compostable, and biodegradable materials to the flexible packaging industry, which is why we are so excited about this collaboration," said Guillem Clofent, Managing Director for Mespack. "Mespack has a strong drive to reverse the environmental impact plastics and other non-biodegradable materials have on our planet. By partnering with leaders like Dow, Menshen, Velcro, and Venvirotech, we hope to create a revolution in packaging sustainability."
Dow Pack Studios brings together equipment manufacturers, packaging designers, and prototyping specialists to drive the commercialization of new and improved packaging innovations. Mespack's 180 FE hf/f/s machine will be installed at the Freeport Pack Studio in the first quarter of 2020, where it will be ready to test customer film and showcase the environmentally-friendly solution.
"The wonderful thing about this solution is that with the appropriate engineering, our installed base of equipment can be retrofitted to utilize this new recyclable material," said Santi Alberich, Marketing Manager for Mespack. "Every day another CPG company is committing to utilizing 100-percent recyclable material. We love that we are helping our customers and the environment at the same time."
Companies in this article